Concern over No Borders "guerrilla tactics" at Ventimiglia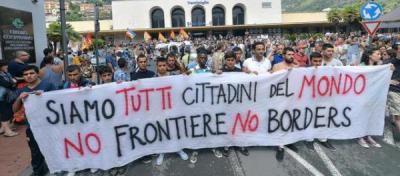 'No Borders' violence causes chaos at Ventimiglia
 VENTIMIGLIA -- The "anarcho-syndicalist" activist group 'No Borders', which campaigns for freedom of movement and an end to migration controls, has been clashing with police forces at Ventimiglia, where Italy borders France. Some of its key members are suspected of learning "guerrilla tactics" whilst fighting against ISIS alongside the Kurds in Syria, La Stampa reports.
 In light of a policeman's death during recent 'No Borders' protests, concerns have been raised about the violent nature of the activist group at Ventimiglia. According to Italian newspaper La Stampa, "the anarcho-syndicalist" group might contain several "antagonists", perhaps around five, who have learnt guerrilla warfare techniques from their time fighting in Syria against the Islamic State and alongside "left-wing Kurdish extremists."
 Guidelines of how to monitor and combat the ongoing problems created by 'No Borders', which is now a dominant force at Ventimiglia, were set out in dossier by the Ministry of the Interior. However, even though such measures are in place, the violent methods of the activist groups are becoming more concerning as times passes. According to the Ministry of the Interior's information, the group contains large numbers of young people from Austria, Germany, and Greece.
 Such concerns are reflected in recent events when members of 'No Borders' were found by the police to be using weapons such as knives and clubs, and even gloves with sharp blades attached, whilst fighting for their beliefs in an end to immigration control.
 The violent nature of the weapons used by 'No Borders', according to La Stampa, is certainly not the biggest worry. More serious is the idea that extremist fighters who have previously fought against ISIS in Syria are amongst the members of the activist group. Although they were fighting against the Islamic State, the Ministry of the Interior's dossier expresses fears of the possible development of the role of foreign fighters in the 'No Borders' group.
 As La Stampa reports, 'No Borders' activists have been moving to Calais from Ventimiglia since 2015 in order to defend their belief in free movement. Three Italian members of the group, who study in Paris, were arrested and then released again whilst protesting in Calais. La Stampa reports that Mohamed Lahouaiej Bouhlel, the French-Tunisian responsible for the Nice massacre, although not officially part of the movement, was identified in a photograph of a 'No Borders' protest march.
 se