'Rhythm of India' comes to Italy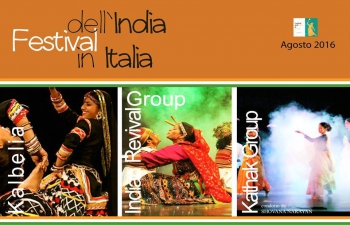 The festival will be put on by three dance groups across cities in Italy
 ROME -- The Festival of India in Italy 'Rhythm of India' began on Wednesday and will run until Monday, taking place in seven different Italian cities.
 The festival features evening events across the nation put on by three different cultural groups: Indian Revival Group, the Kathak Dance Group directed by Shovana Narayan, and the Kalbelia Dance Group, which are all sponsored by the Indian Government's Minister of Culture.
 Indian Revival Group is due to perform on Thursday in Cori, in Piazza della Croce, at nine pm, followed by another performance on Monday in Sulmona, also at nine pm, in the Palazzo dell'Annunziata.
 The Kathak Dance Group, led by Shovana Narayan, is putting on performances in Lavinio, on Friday at nine thirty pm in Piazza Livinia, as well as on Saturday in Rome, at nine fifteen pm in the Arena del Chiostro di San Pietro in Vincoli, Via Eudossiana 18. Saturday's show will be part of the Arenas of Rome Network program and booking is required for this event only.
 The Kalbelia group began with their first performance on Wednesday evening in Anzio at nine thirty pm in Piazza Garibalidi, and continues with shows in Anagni on Thursday evening as part of the World in Town Intercultural Festival, followed by Saturday night's performance in Assisi at nine thirty pm in Piazza del Comune as part of Assisi's Musa International Music Festival.
 Admission is free for all the events and booking is only required for Saturday night's show in Rome.
For further information, please contact info.wing@indianembassy.it (email) / India in Italy (Embassy of India, Rome) (facebook).
 se
On Saturday, the 'Rhythm of India' comes to Rome