Italy spends development budget on dubious arms bonanza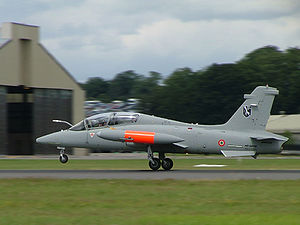 Italy's Ministry of Defence claims it needs to replace 137 MB-339 planes
ROME — The Italian Parliament shortly will be considering one of many government requests to buy more weapons from the Ministry of Defence or state-controlled defence companies such as FInmeccanica at the expense of the Ministry for Economic Development, political sources say. The economic development ministry now dedicates around three quarters of its budget of over 3 billion euros to the acquisition of warplanes, navy ships, armoured vehicles, missiles and bombs made by the likes of Finmeccanica and other companies in the arms sector of Europe, with one aim being to revitalise the country's economy, Il Fatto Quotidiano reports. 
After considerable expenditure in the past, notably 21 billion euros spent on Eurofighters and 6 billion on Fremm warships, the Ministry of Defence is now asking the Ministry of Economic Development for another 784 million to spend on new missiles and military airplanes, the report says.
 The new missile program is looking to acquire an up-to-date version of Aster B1nt missiles, manufactured by the European consortium Eurosam, which they can use on anti-aircraft guns both on land and sea. Although these would be good at taking down strategic missiles, they would be less effective against terrorists armed with lorries or suicide belts, observers note. 
  The utility of these missiles aside, this new request could prompt the government to take the Ministry of Defence to account for what is widely seen its wasteful spending of money, notably in the MEADS (Medium extended air defence system) program with the Germans, into which the ministry has now put 800 million euros and is continuing to spend money on year by year, defence experts say.
 As for the country's Air defence programme, which has cost the government over 500 million in the last 13 years, this will be concerned with the purchase of 45 transonic fighter planes from Finmeccanica, around 30 of which would be used for training at the Italian Air Force's flying school. According to the Ministry of Defence, these would be necessary to replace 137 MB-339 planes, which constitute part of an increasingly ageing fleet (some of which dates back to the 80s). Some of these changes, however, may not be as necessary as all that, with 28 of the MB-339s being still highly modern, and of world class standard, defence sources say.
 The dubious activity in Italy's defence world only starts there, however, since it is also thought that the Ministry of Defence may have inflated figures to obtain more than what is really necessary.
 Experts in the online forum of the 'Rivista Italian Difesa' website dedicated to M-345 fighter planes confirm this suspicion: "Here we go again: if we need 45 new planes, we apparently need to get rid of 137. In fact, the Ministry will only replace about 70 MB-339s- it has never had 137 at any one time!" 
 Last year, the Italian military establishment was guilty of a similar occurrence, when the Navy asked for, and received, 12 new ships (at a cost of 5.4 billion euros), in order to "make up for the disposal of 54 warships." The real number that needed replacing was, in fact, 20.
 And the bizarre saga doesn't end there, since after the request for new missiles and aircraft, the Ministry of Defence is predicted to come back into Parliament to ask for other armament programmes to be approved, notably the acquisition of 136 new armoured fighting vehicles and 48 new helicopters. And all this, of course, at the expense of the Ministry of Economic Development, according to the Fatto Quotidiano report.