IFAD czar's degree inspired by brotherhood
IFAD President Kanayo Nwanze lectures students at Warwick University in January
ROME — IFAD President Kanayo Nwanze may have had to move out of his luxury villa because of an expenses scandal but Warwick University has recognized the Nigerian poverty buster's sterling qualities with an honorary degree arranged by the powerful Muthoo brothers' clan gaining increasing influence at the UN food agencies, diplomatic sources say. 
 Fun-Loving Ashwani Muthoo, formerly deputy head of evaluation at IFAD, failed in his bid to head the department at princely D-2 level after he was suspended for two months on a sexual harassment charge that was dropped after a probe for lack of evidence.
 At this point Ashwani's clever brother Abhinay, professor of economics at Warwick University in England, stepped into the breach and in the name of brotherhood arranged for Nwanze to receive an honoris Causa degree in science at the hallowed academic institution. Nwanze was so chuffed with the unexpected academic recognition that he promoted Ashwan to become Director of Global Engagement, Knowledge and strategy on a dlrs 200,000 a year D-2 salary — trebles all round.
 Ashwan last hit headlines when the Carabinieri were called to break up a Christmas brawl at a watering hole on the Viale Avventino frequented by FAO boozers involving the burly UN executive and his other brother, Rakesh Muthoo, the influential deputy head of cabinet to the FAO Director General José Graziano da Silva.
 Italian Insider disclosed in 2010 -- http://www.italianinsider.it/?q=node/98 -- how Nwanze was living high on the hog in a luxurious 300,000 euros a year villa on the Appian Way, Rome's millionaire row, with a squad of gardeners looking after the sprawling park, football pitch and swimming pool while chauffeurs ran three BMWs in the garage.
 Nwanze survived the resultant scandal over his sky-high expenses and his efforts to ensure accountants covered them up at IFAD but he was forced to move out of the villa to a relatively modest apartment amid growing global outrage.
 A veteran observer of the Rome-based UN food agencies commented that "With this extent of corruption, I would not be surprised if the major donor countries staged their own Brexit soon, like they have done for UNIDO in Vienna."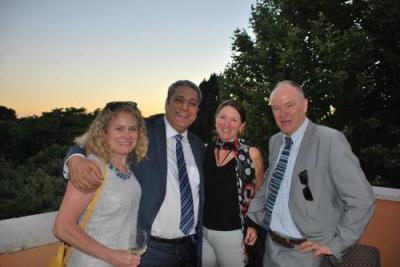 Dolce vita: Rakesh Muthoo, centre left, with Elizabeth Petrovski of USAID (left), Canadian Counsellor Adair Heuchan, (centre right) and Dutch diplomat Ronald Elkhuizen
D2: Ashwani Muthoo last hit headines in bar brawl