Florence says no to McDonald's in main square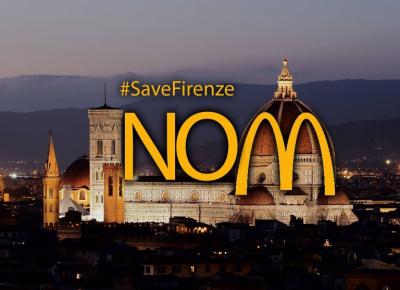 Florence's campaign to keep Mcdonald's out of piazza Duomo
 FLORENCE -- Florence's office for economic development gave a firm no to Mcdonald's request to open a branch in the city's main square, piazza Duomo, officials said on Thursday. 
 The reasoning behind the decision was based on the lack of regional products on offer in the multinational American fast food company.
 Before the official refusal was given, over 15,000 of Florence's citizens gave their signature against the proposed project, which resulted in Mayor Dario Nardella also opposing the opening.
 The US firm reportedly said that it had originally had an agreement from Nardella to go ahead with the plan, and now cannot understand his change of opinion. Nardella has reportedly said that he is voicing the opinion of the 15,000 locals who signed the petition.
 It is however unlikely that the proposal will stop here without further action from the multinational company, which could now appeal against the decision of the town council.
 In this instance, Florence's town council could benefit from a decree from the Minister of Culture, Dario Franceschini, which would give the citizens power to oppose the project on the basis of upholding the city's prestige.
 se