Models strut their stuff for Dutch Embassy
Dutch fashion designer Addy Van Krommenacker with models
 ROME -- A fashion show was set to be held in the Dutch ambassador Joep Wijnands' new residence 'Casale due Pini' on Saturday,  which will welcome exclusive guests to see Dutch stylist Addy Van Krommenacker's latest fashion collection.
 The event will take place at the beginning of Rome's famous fashion show 'AltaRoma' which runs from Friday to Monday. The event will be the designer Van Krommenacker's time to shine in the Eternal City, giving him opportunity to showcase his recent designs which are dedicated to the painter Hieronymus Bosch.
 Ambassador Wijnands has also opened up his home in honour of the Dutch national holiday, for which all the guests' invitation cards marked the dress code as 'elegant, with a touch of orange.' They did not disappoint, and came dressed with a simple yet sparkling orange detail be it a tie or shawl in resonance with Holland's traditional colour.
 Many prominent diplomatic figures came along to the reception party, amongst whom were the ambassadors of Japan, Kazuyoshi Umemoto, of Sweden, Robert Rydberg, of Mexico, Miguel Ruiz Cabanas, of Canada, Peter McGovern, of Portugal, Manuel Lobo Antunes, of Serbia, Ana Hrustanovic, of Kosovo, Bukuije Gjobalaj, of Greece, Themistoklis Demiris, as well as other important figures. The upcoming fashion show is likely to boast an equally prestigious guest list, with many diplomats expected to flock over to Wijnands' new residence for the event. 
 se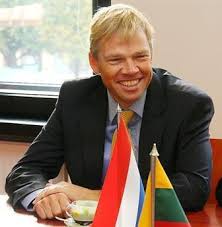 Dutch Ambassador Joep Wijnands