Vatileaks: 4 prison terms and an acquittal requested
Chaouqui with Balda at the trial
 VATICAN CITY -- As the final day of the Vatileaks trial takes place on Tuesday the sentences have been requested as four prison terms and one acquittal, with the highest for new mother and head of the operation Francesca Immacolata Chaouqui.
 The Vatican leaks scandal was one involving the leak of sensitive Holy See documents, exposing alleged corruption within the clergy and the papal state's banks.  Chaouqui, who arrived at the court with her son who was born just 20 days ago to receive her penalty, was involved in a review of Vatican finances at the time of the leaks and working as a communications consultant.  The prosecutions have called for a sentence of three years and nine months in gaol with the accusation of having "inspired" the leaks and therefore holding ultimate responsibility.
 Monsignor Angel Vallejo Balda, a Spanish Vatican official, and his assistant Nicola Maio, are accused of having conspired with Chaouqui in the leaking of documents to which they had access as members of a commission designed to sort the financial documents, as appointed by Pope Francis shortly after his appointment in 2013.  As a result, prosecutors have asked that Balda's sentence be three years and a month, with Maio receiving one year and nine months.
 For journalist Gianluigi Nuzzi, a one-year suspended sentence has been requested for the publishing of his book 'His Holiness: The Secret Papers of Benedict XVI' in which he exposed a series of confidential letters and memos, portraying the Vatican as a hotbed of jealousy, money laundering and factional fighting.
 The other journalist Emiliano Fittipaldi will likely be acquitted due to a lack of evidence against him, despite his also revealing book.  The Vatican has been heavily criticised for the trial of the two journalists, who say they were just doing their job and exposing information that followers of the Church had a right to know.
 In Nuzzi's view, "With our books, we are accused of being divulgers of State secrets, militants, whilst we are divulgers of the mismanagement of the administration and of shady business."
 ch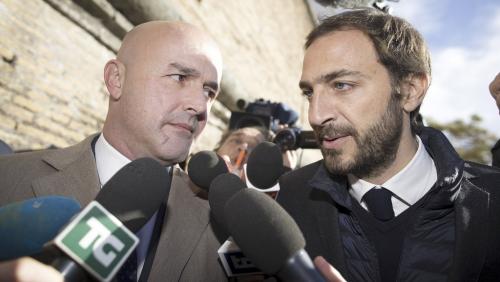 Chaouqui arrives at the courtroom with her newly born child