Turkish editor Can Dündar honoured at Premio Ischia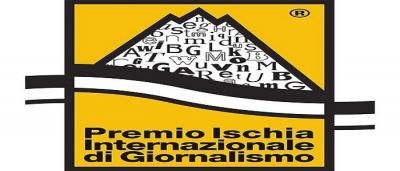 NAPLES -- Former editor-in-Chief of Turkish newspaper Cumhuriyet Can Dündar receives this year's special International Journalism award for human rights at the Annual Premio Ischia, an award ceremony for outstanding journalism, in Lacco Ameno this weekend.
The jury voted to give special international recognition to the Turkish journalist, motivating its unanimous decision: "Freedom of the press and media is a fundamental condition for true democracy." The panel went on to emphasize, "it's part of a journalist's duty to bring circumstances hidden to the public by the government to the light as did Dündar and his newspaper Cumhuriyet. With his journalistic reporting and his courageous efforts for freedom of the press, Dündar has become a symbol to all journalists in Europe."
 Dündar is carrying on an incessant campaign for human rights in a world where investigative journalism is under attack. Accused of espionage, of being a threat to national security and of supporting armed terrorist groups, Dündar and his Ankara Bureau Chief Erdem Gül of the Turkish opposition paper were imprisoned for 92 days following their investigation on weapon trafficking towards Syria. Incriminating footage shows Turkish National Intelligence Service trucks allegedly carrying the loadacross the Turkey-Syria border.
The paper's decision to report on the government led to Editor-in-Chief Dündar and Bureau Chief Gül's conviction for "betrayal of government secrets" in May of this year. Merely moments prior to being sentenced to five years and ten months of reclusion, Dündar also escaped an attempt on his life just outside the courthouse in Istanbul.
This year's Premio Ischia jury is formed by prominent members of the Italian press including Giulio Anselmi, President of ANSA, Alessandro Barbano, Editor-in-Chief of "Il Mattino", Mario Calabresi, direttore di "La Repubblica", Luigi Contu, Editor-in-Chief ANSA, Virman Cusenza, Editor-in-Chief of "Il Messaggero", Luciano Fontana, Editor-in-Chief of "Corriere della Sera" and Luigi Vicinanza, Editor-in-Chief of "L'Espresso" and Internationally represented by Tobias Piller President of the Foreign Press Association in Italy and Maarten van Aalderen Correspondent for De Telegraaf.
Together with Premio Ischia international award winner "Raqqa is being slaughtered silently," a website represented by a group of activist journalists for human rights that witnesses and documents violence committed by ISIS and the Assad Regime on the people of Syria, Dündar was due to be present to receive his special award in Lacco Ameno.
The recent threat to the freedom of the press in Turkey is by no means an isolated case.
 Turkish President Erdogan's intensified conflictive relationship with the press dates back to the probe into government corruption launched by Istanbul prosecutors and police in December 2013. Although three ministers and several aides were dismissed on the grounds of corruption, Erdogan called this probe "a judicial coup" masterminded by a reclusive imam, Fethullah Gülen, resident in Pennsylvania.
 Advocating interfaith dialogue, the Gülen movement, which is believed to have some five million followers and controls a network of schools and universities in more than a hundred countries, has been the target of many acts promoted by the President to limit dissenting views and outspoken voices critical to his government.
In a CNN interview with Christiane Amanpour in March this year, President Erdogan strongly rejected criticism of his government's alleged systematic crackdown against free speech in Turkey, saying the country respects the freedom of the press and freedom of expression.
Referred to as a witch-hunt by many, a source says the Ministry of Internal Affairs has detained a total of 3,000 people until now and currently around 500 people are behind bars, including numerous journalists, all with various charges of crimes against the state.
Reporters Without Borders ranks Turkey number 151 out of a total of 180 countries in its 2016 World Press Freedom Index.
Current delicate circumstances of the Turkish media forced details of this year's Premio Ischia and Dundar's presence to be kept secret from the press until his participation could be confirmed.
 Complications now continue for the 37th Annual Premio as it gets off to a rough start. Beefed up security resulting from yet another terrorist attack just days ago on Turkish soil led a morning press conference to be cancelled. The presentation, set for 11 a.m. at Leonardo da Vinci International Airport, counted on inaugurating this year's edition with Turkish special international award winner.
All other appointments were to take place on the island of Ischia as scheduled.
During the two day event organized by Fondazione Premio Ischia headed by the Benedetto brothers and Elio Valentino, recognition also was to go to Assistant Editor of Corriere della Sera Barbara Stefanelli, creator of the blog "La 27esima ora," Sky Tg24 Correspondent Pio D'Emilia, author of the film reportage "Fukushima" and Pierluigi Pardo, presenter of the sports programme "Tiki Taka." Francesca Fialdini will receive special recognition for a segment on Infotainment, for the programme "Uno Mattina" on Rai TV.