Ramadan party with the Qatari Ambassador
 ROME -- The Qatari ambassador to Italy Abdulaziz Bin Ahmed Al Malki Al Jehani invited 40 guests to join him for Iftar, the evening meal eaten by Muslims to break fast at the end of a day during the period of Ramadan.
 The event was held in honour of Mubarek Bin Rashed Al Buaainan, who arrived in Rome recently to take on the role of Ambassador to Italy for the Arab League.
 The invitation was extended to around 40 guests for 8.30 p.m. once the sun had already set, after which the master of the house gave a welcoming speech, inviting those present to pray together, in a friendly, polite, and informal manner.
 Some of those present included the ambassadors for Egypt Amr Mostafa Kamal Helmy, for Ethiopia Muguleta Alemseged Gessese, for Jordan Zaid Al Lozi, for Morocco Hassan Abou Ayoub, for Palestine Mai Al Kaila, and for Sudan Amira Daoud Hassan Gornass, amongst other dinner guests and diplomatic friends.
 Whilst the tables were beautifully laid out, with crystal vases containing white hydrangeas, and red rose petals scattered across them, the rich buffet was comprised of lamb and rice, mushroom chicken, many traditional Arabic dishes, but also some Italian pasta.  The buffet was followed by fresh fruit, and a wide variety of sweet dishes, with, of course, some fantastic dates.
 ch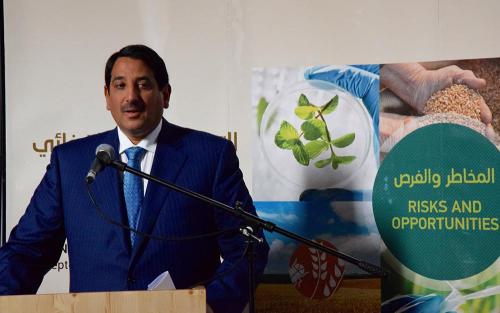 Abdulaziz Bin Ahmed Al Malki Al Jehani speaking in September for the Global Dryland Alliance's conference on "Desertification and Food Security: risks and opportunities"