Emirates ambassador in 'bigamy' battle over wife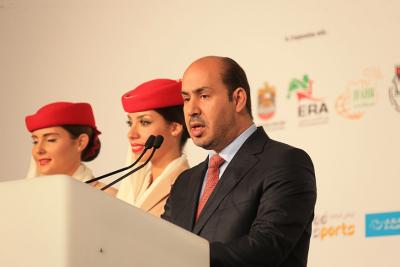 HE Saqer Alraisi presenting the Global Arabian Horse Racing conference in May
 ROME – United Arab Emirates (UAE) Ambassador to Italy HE Saqer Alraisi has been accused by staff of abusing the visa system after Italy rejected as breaking the Vienna Conventions on 'bigamy' his application to allow his second wife, Hamda Ahmed Ali Abbass Alblooshi, to take up residence with him in the Eternal City, L'Espresso magazine reports.
 The imbroglio over Alraisi's consort emerged from a letter of denunciation sent to the UAE foreign minister Anwar Mohammed Gargash by seven disaffected former embassy employees who are sueing the dashing ambassador for illegal dismissal and failing to pay their social security contributions. In the letter, quoted by Espresso, the employees charge that "the behavior of the chief of mission is not always correct even toward the external world … it seems the ambassador does not want to respect the rules of the Italian state preferring instead attitudes 'above the law.'"
 The ambassador applied for his second wife to receive an Italian identity card stating that she is his second wife and for her to receive a visa for consorts of diplomats.
However the Italian foreign ministry rejected the request, "seeing as, one the basis of the Convention of Vienna, bigamy is not allowed," Espresso said.
"What did the Emirates diplomat do? He hired Signora Hamda Ahmed Ali Abbass Ablooshi – this is the name of the second wife of Alraisi – at the embassy as a technical-administrative employee, obtaining for her in this way a visa for work reasons."
 The UAE Embassy press office did not respond when emailed and telephoned by Italian Insider about the Espresso report.