New evidence suggests MPS bank 'suicide' was murder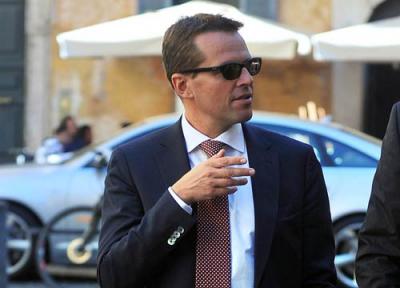 ROME -- Not long after the David Rossi case has been reopened, a video has been published on the New York Post website, showing that the banker's death may not have been a suicide as previously ruled, but could indeed have been murder.  The head of communications at Monte dei Paschi di Siena's body was found in an alleyway behind the seat of the bank, after the bank found itself in hot water.
 It would seem from security footage that the man fell from a window of the bank on the night of March 6 in 2013, however the suicide ruling has never been accepted by many, including his family.  His wife Antonella Tognazzi, along with help from her lawyer Luca Goracci, has fought hard to have this case reopened and to throughout the ruling of suicide.
 In the video, from a surveillance camera nearby, we see two men who approach Rossi just after his fall, and despite the fact we see him move not long before they do nothing to help.  One in particular goes up to the banker as if to assess the effect of the fall.
 Whilst this video had already been acquired at the time of his death and the two men identified and interviewed, stating their presence as coincidence, new analysis of the video has brought another aspect to light.  As Rossi falls, he is facing the wall, whereas to throw himself out of the window he would have to be facing the opposite direction – the speculation has arisen therefore that perhaps he was indeed pushed.
 The publication of the video has arrived not long before the simulation of the fall, which will be shown before the court on June 25.  Last April his widow also managed to win her appeal for a new autopsy to be carried out as according to the family, the note left behind by Rossi in his office did not seem to them to be written by a person in full freedom.
 ch