Bernard Law at Queen's Birthday party raises eyebrows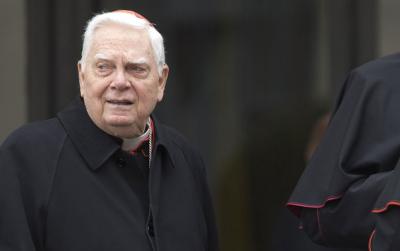 ROME –  The presence of Cardinal Bernard Law, the Roman Catholic prelate disgraced in the Boston child abuse scandal, among the guests at the British Embassy to the Holy See's garden party to celebrate the Queen's 90th birthday this month, raised eyebrows among members of the media attending the august function.
 Law is a fixture at the annual July 4 Independence Day party held at the US Embassy to the Holy See but his appearance at the British function held at the British School in the leafy Rome district of Montiparioli was evidently his first in public since the screening of the film Spotlight about the scandal of his protecting predators as archbishop of Boston.
 A spokeswoman for the Embassy to the Holy See told the Italian Insider: "Cardinal Law is one of many current and former Holy See officials traditionally invited to the Queen's Birthday Party. This was not the first time he has attended."
 In the 13 years since his resignation law has found a haven far from Boston behind the walls of the Vatican. For many years he served as the archpriest of the Basilica of St Mary Major until his retirement at age 80 in 2011.