Plethora of Rome events for International Day of Yoga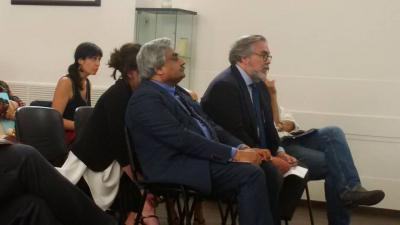 Indian Ambassador to Italy, Anil Wadhwa, at the press event
 ROME -- In honour of the second International Day of Yoga, which will be held on June 21, the Indian Embassy in Rome, along with various partners are putting on a series of events over the coming week to begin on Monday.  The Indian Ambassador to Italy, Anil Wadhwa, speaking at a press event emphasised the importance of this event in upholding this "invaluable gift of ancient Indian tradition, that embodies a holistic approach to life."
 To coincide with this International event, with the theme of "Yoga for Harmony & Peace," FIND (the India-Europe Foundation for New Dialogues) have organised several events for their 'Summer Mela' with the caption "Roma Finds India."  These will include several music and dance events that link in aspects of Indian dance, music and culture.
 The first event will be a book presentation on Monday at six p.m. on "Yoga for Sports: a journey towards health and healing" by the esteemed B.K.S. Iyengar, in collaboration with Light on Yoga Italia, the Italian branch of the Iyengar Yoga Association.  On Tuesday a conference is scheduled for six p.m. on the theme of "Well-being passes through your intestine – an integrated approach to Ayurvedica medicine.
 The Art of Living Foundation will then be collaborating with the Indian Embassy for a Yoga practice session under the title of "Yoga: The New Dimension. Skills and daily practice for Health & Happiness" on Wednesday at 6.30 p.m.  Thursday will see collaboration with Gitananda Yoga for another yoga practice at 5.30 p.m. entitled "Gitananda Yoga: the Ancient Tradition of Rishis."
 Friday there will be three events taking place.  The first two, at four p.m. and 5.30 p.m. respectively, are yoga practices organised with Ananda Europa.  Whilst the first practice encourages you to bring along children and is called, "Ananda yoga for kids and parents," the second is a traditional "Ananda Yoga Class for inner joy."  Later in the evening, there is set to be a concert taking place at eight p.m. and hosted by Amit Chatterjee (Tabla) and Apratim Majumdar (Sarod).
 In collaboration with Brahma Kumaris, there will be a meditation session taking place on Saturday at five p.m. on "Meditation for All Ages: Overcoming Stress, returning to peace," whilst on Sunday the yoga practice, with the Italian Yoga Federation at seven p.m., will focus on "Yoga the path to finding / finding again well-being."
 On Monday June 20 a session on "Yoga and Meditation for Healthy Living" will be held in the Sheikh Zayed Centre at the Food and Agriculture Organisation (FAO) at midday, in collaboration with the FAO Cultural Group.  This event, however, is by invitation only.  At six p.m. a yoga practice will be being held with Centro Yoga Swami Vishnu of "Hatha Yoga according to Swami Vishudevananda-Swami Sivananda's tradition," whilst at eight p.m. there will be a showing of the film "Il Sentiero della Felicità – Awake: la vita di Paramahansa Yogananda" [The path to happiness – Awake: the life of Paramahansa Yogananda] at Cinema Adriano in Piazza Cavour and arranged by the Self Realisation Fellowship – Rome Meditation Centre.
 On the day itself, Tuesday June 21, there are a plethora of events in which to partake.  From nine a.m. to one p.m. the CONI Sport School, at Largo Giulio Onesti 1, will be holding a yoga practice and conference, along with the Unione Induista Italiana, for which it is requested that you register your interest at: segreteria@induismo.it.
 Later on, there will be an open yoga class with arrangement by the Music for Rome Foundation in the hanging gardens of the Auditorium Music Park.  Last, but by no means least, the Summer Mela event will be putting on a Classic Indian Music concert by Pt. Hariprasad Chaurasia, with special guest Ust. Kamal Sabri at nine p.m. in the Cavea Auditorium Parco della Musica.
 The fun does not stop there however, as on June 28, from six p.m. an open yoga session will be taking place in the gardens of the Rome Philharmonic Academy at Via Flaminia 118, whilst at 9.30 p.m. in the same place, the Ganges Riverbanks Trio will be performing with Classic Indian Music.  On July 5, again in the Philharmonic Gardens at 9.30 p.m. will be a dance concert in the Bharatanatyam style by Mavin Khoo to conclude this huge event.
 All events, unless otherwise stated, will be taking place at the Indian Embassy at 5 XX Settembre and are open to the public, as in Wadhwa's words, they are hoping to "spread yoga to as many people as possible to give them peace and harmony," which are so "essential in fast-paced modern life."
 ch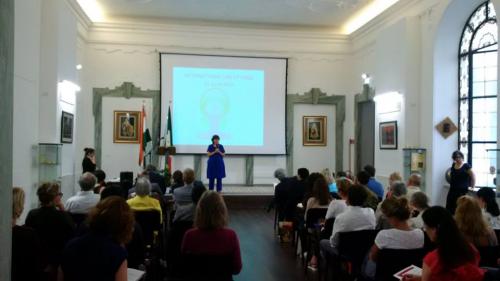 One of the speakers at the event