Rome expats 'vote' to reject Brexit at Insider debate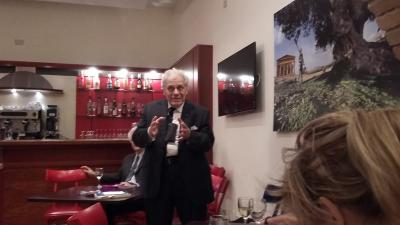 ROME – British expatriates in the Eternal City climaxed a debate on Brexit by voting symbolically for the UK to remain in the European Union, accepting by majority the arguments elucidated by the ALLSI President David Petrie, though there was solid minority support, too, for his opponent, Torquil Dick-Erikson, of UKIP.
Speaking in favour of the motion: 'This House is in favour of Brexit' at the Italian Insider debate held at the Foreign Press Association in Rome on Thursday, May 26, attended by dozens of expatriates, Mr Dick-Erkison said Britain and the EU are incompatible because they have completely different systems, going back 801 years to Magna Carta.
 "In the English-speaking nations the law is a shield," he said, whereas in continental Europe "it is a means where the state imposes its will on citizens" in the tradition of the Inquisition and the Napoleonic code that emerged from the French Revolution.
 Prof. Petrie, the head of the association of foreign lecturers in Italy, began by noting that "the Brexit debate has been unconvincing on both sides" and marred by scaremongering.
 He underlined the importance of the EU for continuing peace and security and demolished a constellation of myths about Britishness. "European history does not begin with the EU and we gave to reflect on two world wars."
 In a world where "capitalism is in reality a religion"  and "the bank is a temple" and of nationalisms, Trumpism and globalization "Britain adrift from its European cultural siblings will feel even smaller," Prof. Petrie argued.
 Members of the public then had their say including a lecturer from la Sapienza arguing that Italy's refusal to comply repeatedly with European Court of Justice rulings to end discrimination against foreign lecturers working in Italian universities was not a reason to reject the European community as a whole.
 In his summing up Mr Dick-Erikson said that once Britain left the EU British diplomats would be able to "thump the table" again to help British citizens in trouble in European countries.
 Prof. Petrie for his part said his opponent has "far, far too much faith in British justice," citing the examples of the Hillsborough and Bloody Sunday inquiries.
 Philip Willan, who umpired the debate, called for a final vote from the floor and the motion was rejected with one abstention though both the remain and leave votes were bolstered compared to the initial vote as most previously undecided participants made up their minds.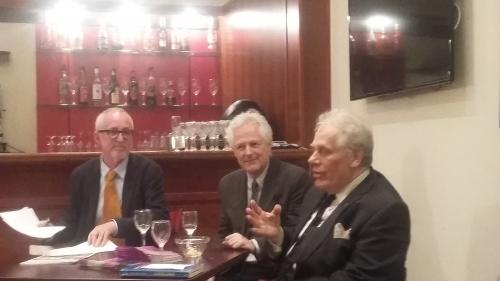 David Petrie, Philip Willan and Torquil Dick-Erikson