UN pensions czar battles payments arrears crisis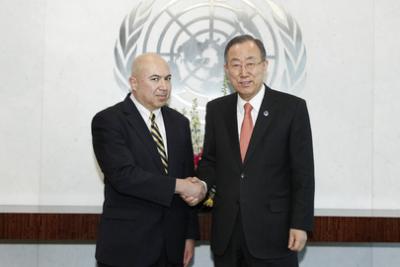 Arzivu with UN secretary general Ban
ROME – Embattled UN pension fund CEO Sergio Azivù flew into the Eternal City this week to reassure retired staffers owed up to eight months in pension arrears they will be paid soon, UN sources said.
  Arzivu, a Mexican, set off a storm last year after trade unions discovered that he tried to revise the Memorandum of Understanding defining the fund's relationship to the UN. The unions said the real goal of the proposed revision was to allow the central American honcho to take control of the fund's massive investments.
 A source at the UN Food and Agriculture Organisation (FAO) told the Italian Insider that the pension supremo "tried to get Gina Casar, his university classmate, to become the Special Representative of the UN Secretary General, at ADG level,  on the Pension Fund, in conjunction with Susan Malcorra, now serving as Argentine Foreign Minister but then Chef de Cabinet to Ban Ki Moon."
 "Word got out that the Mexicans and Argentines were pushing for the Pension Fund to invest in Mexican bonds that had been classified as junk by Moody's."
 "The result was that Casar did not get the Pension Fund job, but became the Number 2 person at UNDP, under Helen Clark. She is now undermining Clark in her bid to become Secretary General," the source said.
 Staff at the fund's investment side, the Investment Management Division, alleged fraud and conflict of interest by Arzivù, later documented in the US and Swiss press. An investigation into him is still ongoing.
 Ian Richards, president of the Coordinating committee of international staff unions and associations, UNOG, said the backlog of pension payments on current trends will take as long as 14 months to clear.
 An observer said:  "It's not the well-heeled D2 retired bureaucrats in leafy Westchester County or in their villa overlooking Lake Geneva that necessarily have the problem, but the far more numerous little retired driver or tally clerk in Timbuktu or Goma or Peshawar who is probably supporting the entire village on his income."
 "And he has to deal with a New York bureaucracy to get his money late? By the time that gets sorted out, half the village has died of starvation."
 Arzivu is due to return to Rome next month though it is unclear why.
jp
UN Pension fund governance structure