Japanese royalty visit Rome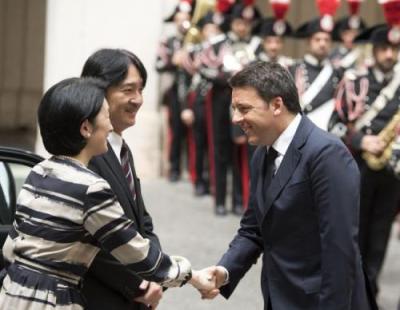 Prince and Princess Akishino meet Matteo Renzi. Photo Credit: Mainichi
 ROME -- Prince and Princess Akishino of Japan paid an Official Visit to Italy, in which they were welcomed by President of the Italian Republic, Sergio Mattarella, during a trip to Rome recently.
 Throughout their stay, they also visited various Rome locations, such as Sapienza University where they opened the new work "From the roots to the flowering branches in Japanese literature" by the International Symposium in the presence of the Rector Eugenio Gaudio and the Japanese Ambassador to Italy Kazuyoshi Umemoto.  Their great hall was filled with students who enthusiastically applauded Prince Akishino for his speech.
 This year the two countries are celebrating 150 years of diplomatic relations between Italy and Japan and the embassy has been putting on various events throughout 2016. The royal couple met with important leaders, including Italian Prime Minister Matteo Renzi and Pope Francis.
 They also undertook an official visit to the Japanese Cultural Institute, where they had an incredibly private ceremony, and undertook a workshop on Noh Theatre, which was also open to the public.  At the same time they attended a demonstrative lecture on the same theme, run by the Kanze Nohgaku School.
 Sheikh Faled Bin Nassir Al Thani, undersecretary for Agricultural Affairs and Fishing Resources for the Municipal and Environmental Minister of Qatar, who was in Rome for the FAO Near East Conference, was another to pay them an honour visit at their prestigious Roman hotel.
 Others include the Qatari ambassador Abdulaziz Bin Ahmed Al Malki Al Jehani, Stefano Scalera, adviser to Pier Carlo Padoan in the Treasury, Ertharin Cousin and Mario Lubetkin from the FAO, the Rector of Tor Vergata Giuseppe Novelli, the Chief of Institutional and External Relations for Leonardo Finmeccanica Federico Fabretti, Vice-President of IFAD Ambassador Michel Mordasini, and Hamed Said Al Oufi, the undersecretary for the Minister of Agriculture in Oman.
 They also attended the exhibition on the theme of "Religion and Terrorism: various perspectives" which was organised by the Islamic Cultural Centre of Italy.  At the event their president, and ambassador of the Kingdom of Saudi Arabi to Italy, Rayed Krimly, said, "Terrorism represents a primary threat for everyone.  Our objective is not to find justification for these barbaric crimes.  The objective is how to best combat this dangerous common enemy.  Muslims also need to fall into step with modernity.  It's to welcome, more than anything, innovation and modern progress."
 ch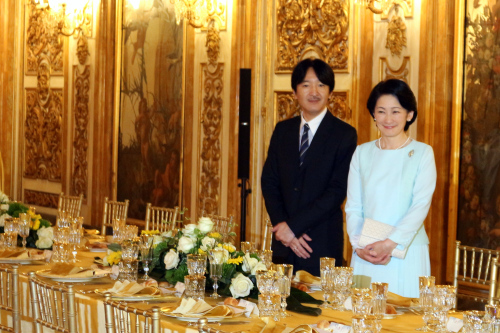 The royal couple at the Japanese Cultural Institute. Photo Credit: MAINICHI
Prince and Princess Akishino meet Pope Francis. Photo Credit: MAINICHI