Lear gets a new twist on June 9: If Lear had a Lawyer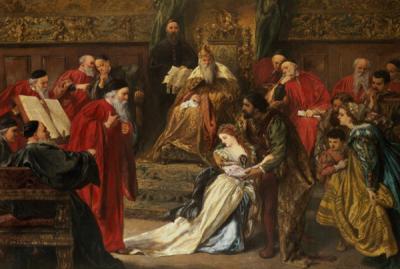 Cordelia in the Court of King Lear, by Sir John Gilbert, 1873.
 ROME -- On June 9 The English Theatre of Rome will be presenting a free staged reading of new play "If Lear had a Lawyer" by Don Carroll, in collaboration with John Cabot University's Institute for Creative Writing and Literary Translation and directed by Harriet Power and Robery Hedley.
 The evening will begin at 6 p.m. and will be taking place in the Aula Magna at John Cabot University, via Lungara 233, in Trastevere, and will consist of the staged reading of this new play, with a post-show discussion with the award winning directors afterwards.
 "If Lear had a Lawyer" was written by Don Carroll and is being directed by Harriet Power and Robert Hedley, who between them have an impressive theatrical career and various prestigious awards.  Don Carroll is an American attorney practising Rome and author of a monthly law column in The American/In Italia. He has performed and directed with the English theatre companies in Rome and in 2014 directed the John Cabot University and The English Theatre of Rome's dramatic reading of Flannery O'Connor's Parker's Back. If Lear had a Lawyer is his first play and is based on his article of the same name published in the Lincoln Center Theatre Review commenting on Shakespeare's King Lear from a lawyer's perspective.
 The play will feature Michael Fitzpatrick in the leading role of Lear, King of Britain, with Douglas Dean as the Fool, Georgia Darell as Goneril, Lear's eldest daughter, and Nadia Caretto as Cordelia, Lear's youngest daughter.  Other actors include Angelo Carotenuto as Edmund, the bastard son of Gloucester, Rosie Hillesley as Lizzy, a fruit lady/tavern owner, Anna Madden as Regan, Lear's middle daughter, and Bill Guion as the Earl of Kent.
 This free event will kick off The English Theatre of Rome's summer programme, which includes a Classical Music event at Teatro Arciliuto on June 12, at 9 p.m. and entitled "East meets West, from Tokyo to Rome," and Golden Globe Campus: English Shakespeare Summer Camp for young people between the ages of 10 and 19, which will be running July 4-13 and 18-27.
 For more information or to book "If Lear had a Lawyer" please contact rometheatre@yahoo.com or SMS/Whatsapp: 3489355626.  The event is Free but please bring a photo ID to gain entrance to the John Cabot campus where the staged reading and directorial discussion will be taking place.
 ch