Multimedia museum to remember geological tragedy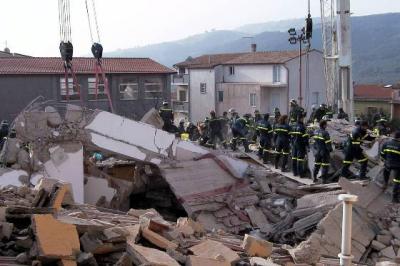 Some of the havoc wreaked in San Giuliano in the 2002 earthquake
 SAN GIULIANO -- A new multimedia museum is set to be opened on Wednesday, dedicated to the memory of the Molise earthquake, in which 27 children and a teacher died due to a poorly built school in 2002.  The mayor of San Giuliano, Luigi Barbieri, describes it as "A work which has value in terms of reconstruction, because a population without memory is a population without a future."
 The multimedia platform will have a seismic simulator for the school building with data taken from three seismic sensors installed in San Giuliano and also in Maestro Terremoto.
 "The M3TE is built on the origins of a human and natural disaster.  So that we don't forget, in the museum is a special institute dedicated to Memory, to the earthquake of October 31, 2002 and to the experience of reconstruction, to planning sustainable, safe and technically perfect buildings.  It's the first Italian cultural centre to be born for 'remembering, warning and preventing.'  It's an innovative and unique idealogy, wish and support mechanism from the citizens, associations and institutions of the San Giuliano di Puglia area."
 The museum is situated close to the Park of Memory, built on the site of the school, on Via dei Colori della Vita.  Domenico Angelone, the president of geology in Molise and a national geological team council member, explained the significance of this new building.  He said, "In the past 230 years there have been around 40 laws on correct construction, yet in every earthquake, there is a catastrophe."
 "Nowadays in Italy we continue to do absurd things like, for example, carrying out geological studies that are signed by someone who isn't a geologist.  Italy unfortunately always has a short memory and easily forgets tragedies.  We can't forget, we must invest in prevention.  It's important to go, enter schools and make children aware."
 He also pointed out the fact that in Italy, "Three million Italians live in high risk seismic zones, especially along the Apennine backbone from Central to Southern Italy (from Marche, to Calabria, and finishing in Sicily), around 21 million in medium-risk zones, more than 15 million in low-risk areas and around 20 million in minimal-risk seismic zones."
 The museum will be open in San Giuliano from Wednesday, with the inauguration and press event taking place in the morning from 10.30.
 ch