Insider Debate on Brexit at Foreign Press Club May 26!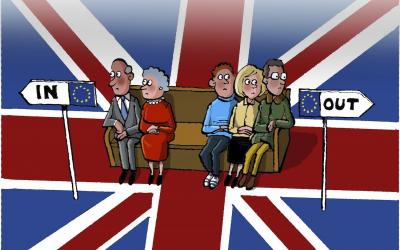 You cordially are invited to an Insider DEBATE on the motion:
"This House is in favour of Brexit."
Speaking for the motion: Torquil Dick-Erikson Esq., M.A. Oxon (UKIP Member).
Speaking against the motion: Prof. David Petrie, University of Verona, Chair of ALLSI (Association of Foreign Lecturers in Italy).
     Thursday May 26, 2016,from 6:30 pm to 9:30 pm.
       Venue: The bar and restaurant of the Foreign Press Club (Associazione della stampa estera) in Rome, via dell Umiltà 83c (near Trevi fountain).
Mr Dick-Erikson has been researching the differences between the British and continental criminal-law systems for 30 years. Prof. Petrie has led a 30-year battle in the European Parliament for equal rights for foreign lecturers in Italy.   
Chef Marcella Brandi will be serving a light buffet dinner. There also will be an open bar featuring cocktails by barman Fabio, wines, draft beer, and mineral water included inthe price of just 20,00 euros a head for Commonwealth Club of Rome members, British Expats Assoc. members and Italian Insider print edition subscribers. Guests: 25,00 euros a head.
Bookings please by email by May 23. Advance payment welcome by bank transfer to Italian Insider account.
Or pay cash on the night to Editor John Phillips after reserving by email at: Info@italianinsider.it
Reserve your place now by sending payment to Insider Press Srl:
IBAN: IT 81 J 06055 03209 000000002121
Kind regards,
The Directors of Italian Insider.