Union leader accuses FAO honchos of "vicious attack"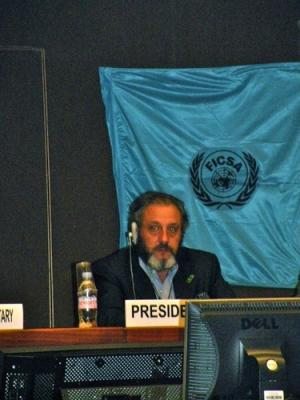 ROME – FAO general service staff union leader Mauro Pace has accused the UN agency's management of  mounting a "vicious personal attack" against him in an internal intranet communication sent to all staff members.
"As they are short of arguments to cope with us on technical or legal grounds, the strategy shifts now to character assassination," Mr Pace, head of the UGSS union at the Rome-based agency, said. "What has been published today on intranet is the culmination in a series of intimidations and a final attempt to gag staff representatives. Let me say from the outset that I have no intention of remaining quiet. Indeed, these type of actions reinforce my belief that a lot has to be done to re-establish ethics and trust in the conduct of staff/management relations in our Organization. This is what I wish to continue pursuing."
He added: "What's on air today is slander, pure and simple, a vicious personal attack on me clearly driven by the deliberate intention of destroying my reputation both as a devoted FAO staff member, as well as a long-standing staff representative. It is at the same time a deplorable attempt to interfere with the activities of the union. It also makes a malicious use of personal and confidential information, which the Organization receives in its capacity as my employer, to damage or tarnish my public image and my name."
"The writer publicly brings serious allegations based on invented facts. Indeed, he (or she, or they) knowingly manipulate facts to present a distorted picture of the union's action, and of me in particular as the intended target. Over the last twelve months, the author(s) have been using double speak, spreading of rumors (I recall the use of Radio Corridor for this purpose), peppered with innuendoes and deliberate misinformation on topics relating to my integrity and ethical standards. In a word, defamation. No adjectives can qualify the inordinate amount of lies contained in this communiqué."
In its unsigned broadside against the union representative on FAO's Intranet internal communications service, management said that "the Organization also expressed surprise and disappointment to learn that the UGSS participation of Mauro Pace, under the umbrella of FICSA, to the ICSC meeting in New York was to present a paper concerning FAO internal matters without any prior official knowledge of the Organization itself. The letter also voiced its concern for the disproportionate request (in excess of that already granted) for time off by the UGSS representative to participate and attend FICSA sessions."
FAO sources said "Internal Communications is run by a General Service-turned Professional staff member, Jane O'Farrell, who jumped from being a G5 to becoming a P2, and who happens to be the companion of Rakesh Muthoo". Muthoo is deputy chef de cabinet to Director General José Graziano di Silva.
 An FAO observer said "with Muthoo as his Advisor, Graziano has broken every rule in the Standards of Conduct for International Civil Servants. They deliberately attack staff representatives, in direct contravention of these Standards of Conduct."