Suspension points - cause-effect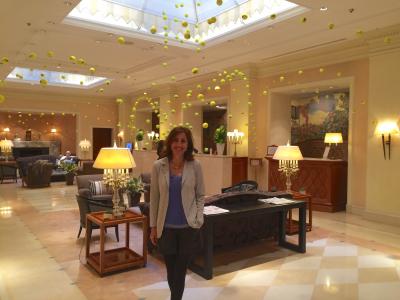 Ana Soler with her installation in the Rome Marriott
 ROME -- The Rome Marriott Grand Hotel Flora was set to display an installation by Ana Soler during the Tennis International from April 27 to May 22.  The installation will be open to the public with free entrance at the hotel on Via Vittorio Veneto. 
 The Spanish artist has taken over the entrance hall in the prestigious hotel with her installation that has been realised with the aid of 400 tennis balls and is entitled "Puntini di sospensione- Causa-Effetto"[Suspension Points: Cause-Effect].  The aim of the project is to offer citizens and tourists alike an interesting moment of her art throughout the period whilst Rome is hosting the International Tennis Championships. 
 Soler has an unusual talent for taking everyday objects and creating spectacular exhibitions.  Her most recent work is another Cause-Effect installation that was created using 2000 tennis balls, which gave the impression of bouncing all around the Mustang Art Gallery in Alicante, throughout each of the levels and rooms.
 ch