Theatre: Intimately innovative all-female Hamlet
The 'bromance' between Horatio, Georgia Darell, and Hamlet, Alashiya Gordes PHOTO CREDIT: Ann-Kristin Rothe
ROME -- English Theatre of Rome's all-female Hamlet directed by Douglas Dean is highly innovative in style, staging, comedic aspect and the twists on iconic moments with some outstanding performances.  Whilst one may not agree with all of the directorial decisions, the performance at the Teatro Arciliuto is not one to be missed.  This is a rare opportunity to see an avant-garde Shakespeare interpretation and relish in some of the beautiful moments.
 The space is small and intimate, allowing the actors to break the fourth wall and directly address members of the audience during their monologues.  In some ways I would like to have seen this pushed even further, as the space was perfect for it, but that's just a personal opinion as I know there are many who would not like that.  The floor was a corner space, with the audience running the length of the other two sides in tiers, and on Saturday it was packed.  Dean used the two doors and the empty window to great effect for entrances and exits.  He kept the stage bare apart from photos of the actresses around the room.  A good choice, as in such a small space it could have seemed crowded with a lot of staging.  The photos were used to good effect when the script talked of someone who was not there, making it clear to the audience.
 As Dean mentions in his director's note, the full-length version of Hamlet lasts more than four hours, a bit too much for the non-aficionados of the bard, therefore cutting it down to an hour and forty-five, whilst I can imagine it was difficult, really did open it up to a wider audience.  Another thing to keep it interesting was the injection of a sizeable amount of humour, which worked superbly.
 I fully approved of the choice to stage this as an all female play, though I think that perhaps even more could have been made of this, with some of the characters as more neutral roles, rather than clearly trying to be masculine which jarred, as did the disparity in accents.  Some actors who stood out for me, however, were the 'players' Gina Ferrarin, Jo Kohorst and Denise McNee in their various roles.  All played men but none of them lost their femininity either, and they were truly hilarious in their roles as the players, as was Ferrarin as the gravedigger.  The choice to have certain moments so stylised, as their portrayal of 'The Mousetrap' was particularly enjoyable and really helped to give this age-old play a new lease of life.
 Both Hamlet and Ophelia, Alashiya Gordes and Nadia Caretto respectively, were wonderful in their madness and the idea of adding face paint and huge stylisation to contrast them to the naturalistic characters around them was brilliant.  Caretto's madness was particularly perfect, and singing of her speech during this phase really works and ties in wonderfully to how Gertrude describes her death, mentioning that she was singing old tunes in the water.  However there were two moments that really set this depiction apart from other versions that I have seen.  The first was the well known 'To be or not to be' scene.
 The use of the bowl of water and the long pause between 'to be' and 'or not to be' was both comedic and incredibly poignant, especially with the on-looking Ophelia, though for me parts of the rest of the speech felt a little rushed, something I can understand when you're trying to fit the play into such a short time.  As someone who loves that speech though, it would have been nice if more time could have been taken over it and a little more could have been made of it.  The point Gordes shone, however, was not in the monologues but in her jokey relationship with Horatio, played by Georgia Darell, who was wonderfully believable and a joy to watch, and as a pair they really lit up the stage and engaged the audience.
 Anna Mazzotti excelled as Gertrude, oozing motherly concern, yet also an aristocratic belief in appearances, whilst Polonius, performed by Dyanne White, was fantastically irritating and injected more humour than is usual in this role.  There was also a lovely moment after her character was killed, when the Ghost of the King of Denmark picked up her hand and led her off, leaving just the coat to be dragged off by Hamlet as though it were the body.
 The second moment that really sticks in my mind, however, comes just before the interval, when Hamlet is pondering killing Claudius as he repents.  The shock event, deviating from the script, causes a lot of discussion in the queue for drinks or the loo as to where they might proceed from here.  A really clever technique that, as one of my friends noted, all soaps employ to good effect, and so it was interesting to see that extend to theatre.
 Maybe the production wasn't perfect, with some poorly timed tech cues, and a couple of the actors either not responding to events, or responding without the prompt of an event or another actor that would justify their action - I still have no idea how Hamlet died, he seemed fine one minute then was dying the next, though perhaps that is through fault of my own for scribbling down a note at a key moment.  Yet it was definitely an enjoyable evening and offered something a little bit different from your usual Shakespeare at the Globe, which was thoroughly refreshing.  I only lament I can't mention each wonderful moment and have limited myself to just a few.
 Dean must be commended for the visual play he has created and the effective blending of styles and gender roles, as well as the efficient use of space.  I would strongly encourage going to see it, especially if you are a fan of Shakespeare and enjoy seeing it done in different ways.  The whole team should be applauded for offering a highly enjoyable evening of English theatre in Rome.
 ch
The players: (from left to right) Jo Kohorst, Denise McNee, Gina Ferrarin PHOTO CREDIT: Ann-Kristin Rothe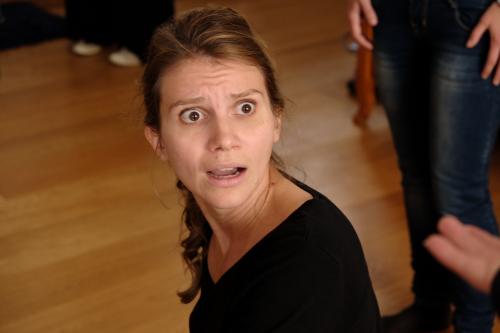 Alashiya Gordes as Hamlet PHOTO CREDIT: Ann-Kristin Rothe