Lula 'may seek FAO bolthole' in Rome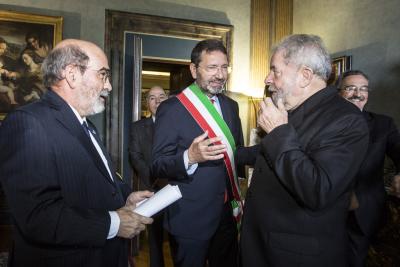 Lula (right) and Graziano (left) with former mayor of rome Marino. Photo credit: ©FAO/Alessandra Benedetti
ROME – FAO Director General José Graziano da Silva may offer former Brazilian President Luiz Inacio Lula da Silva a bolthole as a "special advisor" to the UN agency to give Lula immunity from prosecution in Brazil's mushrooming corruption scandal, FAO sources say.
A supreme court judge in Brazil last month blocked the former Lula da Silva's appointment to the Brazilian cabinet, paving the way for him to face corruption charges in court.
Judge Gilmar Mendes wrote that Lula's appointment to cabinet was clearly designed to allow him to avoid possible imprisonment by a lower court judge.
Supreme court judges will have the final word on whether Lula can take up the appointment in embattled president Dilma Rousseff's government. Meanwhile Graziano, who served as a minister in Lula's cabinet, is considering offering Lula a job in Rome as one of the constellation of special advisors at the Rome-----based poverty-fighting agency who enjoy salaries of dlrs 20,000 a month and generous benefits.
 As a UN employee Lula could enjoy immunity from prosecution. Lula's wife already has Italian citizenship meaning he could also take Italian nationality to provide a further barrier against eventual extradition proceedings.
Prosecutors in Brazil say they have evidence that Lula, members of his family and the Lula Institute, the NGO that he heads, received "undue benefits" worth 30m reais ($8m) in 2011-14 from builders embroiled in the Petrobras scandal.
 Lula was "one of the principal beneficiaries of the crimes" committed at the oil company, prosecutors claim. He vehemently denies any wrongdoing.
Lula last year came to Rome to give a lecture in at the FAO's June Conference at the invitation of his former protegée. The trip by Lula to Rome was paid for by the FAO.  The FAO under Graziano's stewardship has started a major partnership with the Lula Institute and the African Union "to end hunger on the continent by 2025."
 FAO observers noted that perhaps the Governing Bodies of the Organization should request the DG to provide information regarding FAO's ties to the Lula Institute and any associations with Odebrecht Agroindustrial.