Bunraku, Sicilian dolls mark 150 years Italy-Japan ties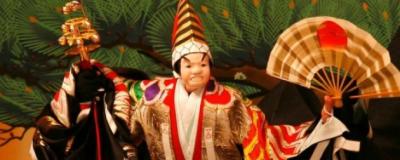 A Bunraku theatre performance by master puppeteer Kiritake Kanjuro III who performed at the Japanese Cultural Institute in March
ROME -- Theatre without borders – a ceremonious show that served as a cultural exchange between famous Japanese and Sicilian puppets. The Japanese Ambassador, Kazuyoshi Umemoto, invited representatives of diplomacy, politics, culture, economy and society to an afternoon at his house of special flavour that saw the exchange between the celebrated bunraku theatre, an ancient Japanese puppet tradition that is known throughout the world, and the Opera of Sicilian Dolls.
 The two ambassadors are taking part in UNESCO's Intangible Cultural Heritage celebrations.  The maestro Kiritake Kanjuro came from the land of the rising sun with the secret mechanisms that are hidden behind the marionette of the Proud Samurai and the "Lament of Osono," a splendid female character in a kimono in the throws of the pangs of love.  Meanwhile the incredibly Italian maestro Mimmo Cuticchio, with the love and the army of Angelica, Orlando and Rinaldo, gave life to the fantastic representation, recounting the history and the secrets of their art.
 "One hundred and fifty years ago the treaty of friendship and trade between Italy and Japan was signed, which pinpoints the beginning of diplomatic relations between the two countries: to celebrate this anniversary we have prepared an intense programme of events.  This meeting is a part of those: then for all of 2016, there will be music, cinema, and events amongst which will be a special illumination of the Coliseum," said Umemoto who had joined the Yoriko consort in elegant trandition dress.
 The show was thoroughly applauded by the onlookers who included: The governor of Banca d'Italia Ignazio Visco, the ambassador Emanuela D'Alessandro, who is the diplomatic advisor to president Mattarella, and the ambassadors John R. Phillips (United States), Peter McGovern (Canada), Giancarlo Kessler (Switzerland), Ricardo Neiva Tavares (Brazil), Birger Riis-Jorgensen (Denmark), Amr Mostafa Kamal Helmy (Egypt), Bobby McDonagh (Ireland).  A particular thanks was given by Umemoto to ambassador Umberto Vattani, who was present with his wife Isabella, for his collaboration with the event.
 At the special relations theatre event others present included the general directors of FAO José Graziano da Silva, Lamberto and Donatella Dini, and Fulvia Visconti Ferragamo, as well as the directors of the Argentina Theatre Antonio Calbi, Daniela and Stefano Traldi, and Alberto Michelini, amongst others.  Finally there was a buffet with a variety of Japanese specialities.