Graft probe spotlights FAO links to Lula Institute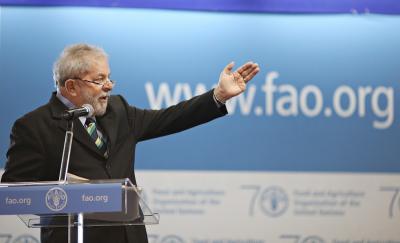 Lula speaking at the FAO in 2015
ROME - Donors to the UN Food and Agriculture Organisation (FAO) may ask the UN agency to review its ties to the Lula Institute folllowing the request for the arrest of former Brazilian President Luiz Inácio Lula da Silva for alleged money laundering, diplomatic sources said Friday.
 Prosecutors in Brazil now say they have evidence that Lula, members of his family and the Lula Institute, the NGO that he heads, received "undue benefits" worth 30m reais ($8m) in 2011-14 from builders embroiled in the Petrobras scandal. Lula was "one of the principal beneficiaries of the crimes" committed at the oil company, prosecutors claim. He vehemently denies any wrongdoing.
Lula last year came to Rome to give a lecture in at the FAO's June Conference at the invitation of his former protegée, the agency's Director general, Jose Graziano da Silva, who was a minister in the first Lula government. The trip by Lula to Rome was paid for by the FAO.
 The FAO under Graziano's stewardship has started a major partnership with the Lula Institute and the African Union "to end hunger on the continent by 2025."
 FAO observers noted that perhaps the Governing Bodies of the Organization should request the DG to provide information regarding FAO's ties to the Lula Institute and any associations with Odebrecht Agroindustrial.