Fire at Sea: in between life and death
 ROME -- "Fishermen take everything that comes from the sea" said director Gianfranco Rosi, after winning the Golden Bear for his documentary Fire at Sea, about the migrant crisis in Europe at Berlinale International film festival.
 Fire at Sea is an emotional, intimate documentary filmed entirely on the Sicilian island of Lampedusa, known for being the first reach point for migrants attempting to cross in overcrowded boats the Mediterranean Sea from North Africa. 
 "Fire at Sea is as parthenogenesis" revealed Rosi in an interview "a film that is self-induced, self-fertilized. No scene was either written or conceived before being shot. And here it is the wonder: when I say that my film is a documentary, it is because everything is always born from reality."
 Indeed, reality is the key through which to interpret Fire at Sea. From one side, Rosi followed the life of the young scamp Samuele, the everyday life of fishermen, one of the island's laconic radio DJs, and the testament of Pietro Bartolo, the doctor who, for 25 years, has being examining cadavers of migrants dragged on the seaside and treating kids for chemical burns caused by the contact with boat fuel.
 From the other, he followed the perilous and dreadful process of migrant rescue. Through the patrol boats' point of view, Rosi shows the migrants' despair, the flood of corpses, the disembarkment of the almost dead and a glimpse of their sorrowed lives.
 Rosi's filming method is simple but incisive. Through the adventures of Samuele, the everyday habits of the inhabitants of Lampedusa, and the bond of the fishermen with the sea, Rosi shows the authentic, passionate but also detached relation between Lampedusa and the migrants.
 Each scene is structured in a way that shows the effect in everyone's life of the migrants' reality, in the fishermen, in Samuele, in Pietro Bartolo. Each scene is so powerful because it captures the moment of affliction in its purity and shows it to you as it is.
 Fire at Sea displays how life and death go hand in hand within the island. How despair and joy play an osmotic role within the migrants. And through the sole observation of the reality of the events, Rosi paves the way to political and social awareness, showing the complicated dynamics of a world you have never seen before. 
 ch-ls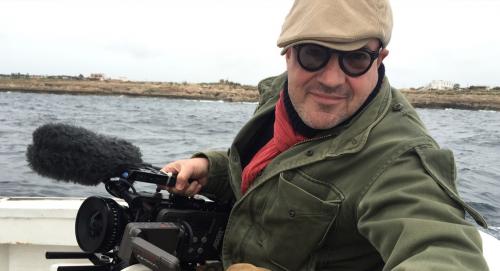 Director - Gianfranco Rosi