ENI profits dive with oil prices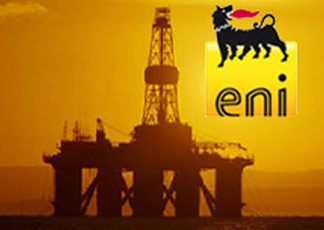 ROME -- Italian energy giant ENI suffered a net loss of 8.82 billion euros in 2015, owing for the most part to the "depreciation of the oil market", their most recent report has shown.  Their adjusted net income, however, is positive at 0.34 billion (-91 percent).
  The fourth trimester of 2015 saw a complete collapse of oil prices, and it was for this time period that Eni has reported that they have ended 8.46 biliion into the red, which is reduced to 0.20 billion if one considers the adjusted net profit on a standalone basis.  The company has confirmed its 2015 dividend to be 80 cents per share, including the 40 cents that were already distributed in September of last year.
  Eni recorded a production growth of 14 percent in the fourth trimester with a plateau of 1.88 million barrels per day (the highest in the past five years) and of 10 percent over the whole of 2015, against their initial target of five percent, to an average of 1.76 million barrels a day.  The new resources added throughout the year amounted to 1.4 billion barrels (against their initial target of 0.5 billion), at a unit cost of 0.7 dollars, thanks to the discovery of the Zohr supergiant in Egypt's offshore.
  "In 2016, as in the last year," announced the assistant director Claudio Descalzi, "we are rapidly continuing Eni's transformation process, with the aim of making the team even stronger and able to work even better in this challenging environment to maintain sound growth expectations.  In 2015 the company achieved fundamental results for this transformation process which show that the group is even more focussed on oil and gas core business, and are even better prepared to compete in a market with low energy prices, reflected in the ENI scenario which is aligned with a consensus of a cautious market.
  The complex process of the Saipem deconsolidation is now concluded, just four months after it began, and it brought Eni a net profit of 4.8 billion, whilst plans to increase efficiency and rationalise spending have registered results that are better than expected.  All of this brings the self-financing of 2015's capital expenditure to a situation of around 50 dollars a barrel – 13 less than a year ago."
 jp-ch