FAO Budapest exodus spawns doublespeak
Not a happy ship: FAO Budapest HQ
ROME – As many as 30 low-paid staff at the FAO's Shared Service Centre in Budapest have decamped to the UNICEF office in the Hungarian capital to enjoy higher pay and opportunities despite the UN agency's Director General José Graziano da Silva appealing to the UNICEF head to block the exodus, FAO sources say.
 "Graziano was told it was not his place to prevent staff getting better conditions, namely pay," the sources said.
 After the mass hemorrhaging of key staff  deputy director general (Operations) Daniel Gustafson, one of the Brazilian supremo's most loyal henchmen, issued a weasel-worded memorandum "to all FAO employees" claiming that imminent reduced services from Budapest in processing expenses and issuing new contracts would be due to "a significant transformation exercise."
 "In order to improve our business processes and better serve you over the next six to nine months, the global Shared Services Centre in Budapest will be undertaking a significant transformation exercise," Gustafson wrote,  "the result of this transformation will bring improvements in a number of areas including:
·  The deployment of a contact centre solution to provide improved communications and support for shared administrative services;
·  Improvements in the recruitment and onboarding of staff members and NSHR;
·  Improvements in the effectiveness of the NSHR payroll processes;
·  Improvements in the processing of travel advances and claims;
·  As well as a number of other related administrative process simplifications.
 Gustafson added that "while we undergo this change, there is a possibility that some service requests may experience delays."
 "In an effort to keep these delays to a minimum, we ask that you assist us in this transformation by submitting all requests well in advance with the necessary documentation and information as full and complete as possible, especially for the following requests:
·  Recruitment
·  Separation
·  Travel Advances
·  Travel Authorization"
Gustafson gushed that "we look forward to your full support during this period of transition, as we aim to improve and serve you better."
 The parlous state of staff morale the agency's Budapest operation was reported by Insider in 2014: http://www.italianinsider.it/?q=node/2076 and evidently has not improved, FAO watchers say.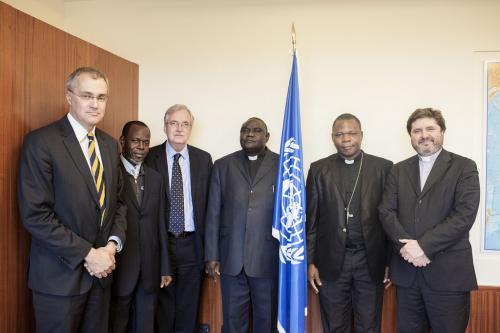 Gustafson (3rd left) receives 'high level clerical delegation' at FAO