The Middle East's appetite for Italian perfumes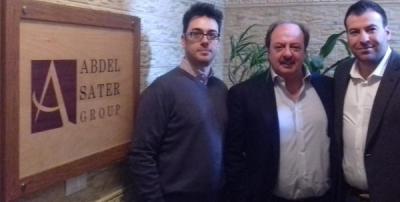 Nader Abdul Sater with Italian cosmetic chiefs Luciano and Andrea Monelletti.
 ROME -- Demand for Italian cosmetic products in the Middle East is on the increase despite years of war and forced displacement in the region, with Jordan-based consumer holding company Nader Group recently signing new deals with Italian cosmetic societies The Fist and Almon.
 Beirut continues to be a bridge for commerce between Europe and Arab countries, welcoming new Italian businessmen "almost every month," said Nader Abdul Sater, administrator of the Nader Group and president of the economic commission of the Italo-Arab Assadakah Centre, in an interview with Lebanese journalist Talal Khrais.
 Sater, one of the biggest exporters of Italian products in Lebanon, has signed deals with Luciano Monelletti, general manger of The Fist, and Andrea Monelletti, owner of the Almon society. "I am always happy to see new Italian guests and friends like Luciano and Andrea," said Sater. "Italy remains an extraordinary country for quality products, particularly beauty products. As a group we import on average between 70 and 80 percent of what we sell."
 "I believe that if Italy continues like this it could become the world's top producer in the cosmetic sector. Lebanon imports cosmetic products of a value that varies from eight to 12 million euros a year. Since 2006 when imports began the growth has been fantastic."
 From Syria too, where years of conflict have prevented the import of products, there has been a flux of people travelling to the Lebanese capital in order to buy Italian products, perfumes in particular, according to owner of a Syrian perfumery Roula Rekhbi. An unthinkable idea, it might seem, for a population threatened almost daily by government-led bombing raids and terrorist attacks. But in an interview with Khrais, Rekhbi tells of the high demand for Italian cosmetic products and perfumes amongst young Syrians, and of the difficulty of importing them into the country because of the money transfer procedure that has been complicated by an embargo on the country.
 Since the lifting of sanctions in Iran in January this year, the Islamic Republic has also become a growing market. Andrea Monelletti, speaking of his Almon cosmetic society, said that "we have been present in the Islamic Republic of Iran for a long time and the embargo created difficulties, but the situation will change for us and for all Italian businesses that operate within this important market."
 Despite increasing political tensions and security concerns between Italy and the Middle East, it seems that cosmetic products remain a neutral bridge between the two. Italian exports to the region are expected to continue to rise.
ft