Promoting environmentally friendly business worldwide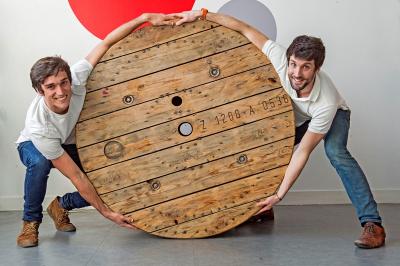 ROME -- With 17 months to seek out over 100 businesses in 22 countries Toulouse Business School graduate Jules Coignard and his friend Raphael Masvigner have not set themselves an easy task.  They are aiming to promote 'circular economy', an environmentally friendly business model that is already happening across the globe, through their round-the-world project named "Circul'R".
 The principal objective of this initiative, which began in March 2015, is to promote the transition to a circular economy by seeking out 100 particularly interesting initiatives across the globe.  The aim is to demonstrate that it is possible to establish a new business model on a large scale.
 A large part of this new model is made up of the belief in the reduction of natural resource consumption and of waste in developing countries; it is also a model of production that respects the environment and the workers.
 After more than ten months of immersion into the heart of this new economic model in Europe, Africa and Asia the results from "Circul'R" have been incredibly promising, with the two young Frenchmen having already promoted around 90 initiatives in just 14 countries.
 So how does it work exactly?  Once the initiative has been identified, the young entrepreneurs launch themselves into raising awareness of the principles of circular economic models, or "closed loop" systems.  Each step of the voyage they write articles and video reports which are uploaded onto the web and circulated via social media and the combined efforts of various partners who are supporting the project.
 As part of their programme they also organise conferences and debates in the universities for the students in the countries they are visiting.
 The final objective is to bring together all the agents involved with each different project throughout the world to share the best practices for companies engaged in this circular economy model.
 The Toulouse Business School is funding this innovative project and helping Jules to make contact with organisations involved in circular economic practices.  The young businessmen are also in permanent contact with the Chair of corporate social responsibility in the school in order to develop their project and so they can rely on the network of the school's academic partners for their conferences.
 From the beginning of their journey Jules and Raphael found interesting projects and identified various structures: be they start-ups, associations or institutions.  For example Interface, a Dutch society that makes a recyclable carpet, made around 1 billion in revenue per year.  Another is Orange Bleu, a Moroccan association that has transformed a dump into a permaculture of 2,500 square metres, with sustainable agriculture, high energy efficiency and respect for people, in which they grow organic fruit and vegetables, providing a local source of revenue in a poor community.
 The journey has allowed the discovery and promotion of many socially responsible and environmentally friendly projects across the globe to "create a socially, environmentally and economically virtuous circle," explain the young entrepreneurs. "The southern countries of the world marry the idea of circular economy and a healthy social economy almost automatically, innovation goes hand in hand with poverty reduction."
 After their navigation of the globe, which will finish in August, their awareness-raising programme will continue with numerous lectures and speeches at environmental events, workshops with their partner organisations and an exhibition of their project.
 In the end, Jules and Raphael are keen to use their experiences to their advantage to start their own business and support the association.  This will come in the form of funds for entrepreneurs and companies who wish to start their own projects linked to circular economy.
 ch