'Splurge of public funds' on Renzi jet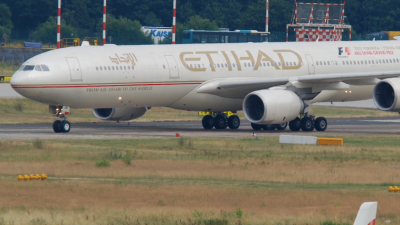 The new jet arrived at Fiumicino under cover of darkness.
 ROME – Opposition politicians are up in arms over a "secret contract" between the Italian government and United Arab Emirates air company Etihad, for Alitalia's alleged lease of a personalised luxury jetliner for use by Italian Prime Minister Matteo Renzi.
 In a statement released by Alitalia the company denies claims that they were paying Etihad part of the enormous rent for the State aeroplane. "The aeroplane, with the cooperation of Alitalia based on its own industrial partner Etihad, is used for State flights as a result of a leasing contract – subject to usual conditions of trade – between Alitalia and the [Italian] Ministry of Defence." They assured they are not paying any of the cost themselves, estimated to be between 200,000 and 300,000 euros a month.
 The secret deal was brought to light by Il Fatto Quotidiano newspaper after an Airbus 340, leased from Etihad by the Prime Minister, arrived at Fiumicino airport at 1:45a.m. on the night of Feb. 1 before being hurriedly sheltered in a hangar. The contract is suspected of hiding either a large sum of money belonging to the Italian authorities, or a favour on the part of the Arab company to close friend Renzi.
 The acquisition of the jet seems to be shrouded in mystery, with even a parliamentary interrogation about it from ex-defence minister Antonio Martino remaining unanswered. Why would an A319 or a Boeing KC-767A, which could guarantee the exact same service, not suffice? Why did the government want a plane that needs a runway of three kilometres when Ciampino, the airport which is to hold it, has only two? How long is the lease for?
 The plane has been personalised at the presumed request of Renzi, with leather armchairs, carpets, a meeting room, bedrooms, and Wifi throughout, Il Fatto reported. It had been parked in Abu Dhabi for over five months, sparking speculation that Renzi wished the use of public funds to secure his new purchase to remain secret.
 Etihad airways is an Abu-Dhabi based company established in 2003, with shares in Air Berlin, Aer Lingus and Air Seychelles, among others as well as Alitalia. It is headed by James Hogan, who Renzi persuaded to save Alitalia in summer 2014.
jp-ft