British expats urged to vote in UK-EU referendum
Following negotiations UK PM Cameron has secured a draft deal from EU
 ROME -- A campaign has been launched by the British Embassy in Rome to encourage UK citizens living abroad to vote in the upcoming UK referendum on membership of the European Union.
 A day of activities has been organised for Thursday Feb. 4 to increase voter registration for the referendum. Although the date for the vote has not been set, British expats are urged to register sooner rather than later to avoid missing out on the chance to have their say in whether the UK will leave or remain in the EU, perhaps one of the largest political decisions currently facing the country.
 The Overseas Voter Registration Day on Thursday is designed "to reach out to as many UK overseas residents, including in Italy, as possible, and to boost the numbers of those who actually register to vote from outside the UK," said the British Embassy in Rome.
 The EU referendum has been much anticipated ever since UK prime minister David Cameron won office in 2015 on a manifesto promising an in-out vote, and has become a controversial issue both within and outside the country.
 Discussions have been taking place between Cameron and president of the EU commission Jean-Claude Juncker in an attempt to renegotiate Britain's position within the EU. This week a deal has been drafted which includes an "emergency break" on migrant benefits and a legal statement that the UK is not committed to further political integration in the EU, a deal Cameron has called "worth fighting for." He commented that "more work" needed to be down to "nail down" the details, but added that "we said we needed to deliver in four key areas, this document shoes real progress on that front."
 A fresh round of diplomacy will be taking place in order to encourage other EU leaders to sign up to the draft deal. Cameron's proposal for a four-year ban on migrants claiming some benefits was met with opposition from other EU member states as well as human rights groups. The EU commission said that it was "highly problematic" gives its restriction on basic rights such as freedom of movement.
 However, if Cameron can get an agreement in February, he is expected to hold a referendum in June or September on Britain's membership of the EU.
 As the rules currently stand, in order to be eligible to vote UK residents overseas must have been registered in a UK constituency within the last 15 years. Once registered as an overseas voter, citizens can choose to vote either by post, by proxy or in person if they are in their UK constituency at the time.
 To register to vote visit: https://www.gov.uk/register-to-vote
ft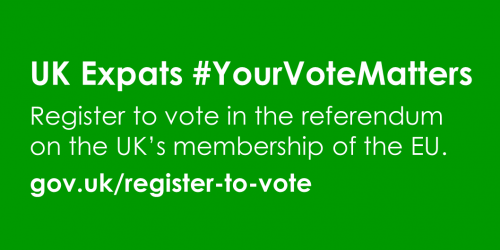 UK embassy in Rome launches campaign to increase voter registration