American writer Diana Bletter on loss, life and love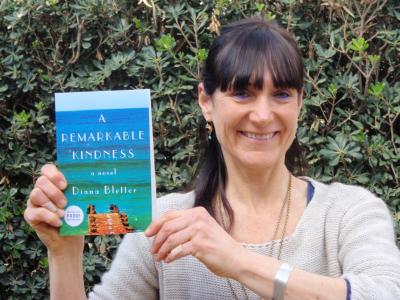 'A Remarkable Kindness' is Diana Bletter's latest book
 ROME -- Death, life, love, hope. Four threads around which Jewish American writer Diana Bletter's latest book, A Remarkable Kindness, is woven, and which indeed seem to underlie existence in her own village in northern Israel near the border with Lebanon.
 The book tells the stories of four women from different backgrounds, all brought to a seaside village in Israel similar to Bletter's own through hopes or fears in their personal lives, and united by a shared need - kindness. Over the course of the years their friendship grows, alongside their shared experiences of life and loss in a country being torn apart by war.
 In a talk given in Rome's charming Anglo-American 'Open Door Bookshop', Bletter emphasises that the book is not about politics or conflict, however, even if they often form a backdrop to life in the village, but about "the spirituality that unites us" and the hundreds of small stories that constitute collective daily life.
 "Every day is something. And here enough happens in a day to last a year elsewhere," she recounts, displaying a sense of humour that comes across as much in real life as it does in her writing. The voices of the story, those of the four women, are a testimony to this; each brings her own individual strengths and struggles and creates a diversity of identity that portrays only too well Bletter's message of tolerance in a time of hate.
 The book is fictional but draws from Bletter's own personal experiences, who was born and raised in America but fell in love with Israel when she visited at the age of 17. She would later move there with her husband, after time living in both Rome and Paris, to help contribute to the peace efforts. Indeed, of great significance in the story are the journeys of what she herself calls the "errant Jew," a poignant translation of the experience of trying to fit into a culture to which you do not 'belong', or were not born in.
 A feeling of belonging and of unity is eventually found through the heroines' - their human weaknesses make them heroines to be sure - participation in a Jewish burial circle in their village, a traditional ritual in which groups from the community shroud the dead in cloths before burying them. Bletter herself belongs to one of these circles in her village, from which she describes being filled with "a sense of life" for being in such close proximity with death.
 It is this act which underpins so much of the story's beauty, and emphasises a renewed appreciation of the present shared by Bletter as well as her characters. It represents a closing of "the circle of life" so often brought to a violent end in a war-torn country, and a show of generosity unparalleled in life. Because, as described in the book, "the dead can't give us anything in return. An act of remarkable kindness."
 Bletter is also the author of The Invisible Thread: A Portrait of Jewish American Women (1989), and a self-published memoir, The Mom Who Took Off On Her Motorcycle (2013). Her writing has appeared in The New York Times, The Wall Street Journal and The Huffington Post, among others.
A Remarkable Kindness: A Novel
William Morrow Paperbacks (August 11, 2015)
416 pages
$14.99
Bletter gives a talk in Rome's 'Open Door Bookshop'