FSI Investmenti at cutting edge of Arab-Italian ventures
Giovanni Tempini, President of the Fondo Strategico Italiano. Photo credit: FSI
ROME – The Fondo Strategico Italiano (FSI) achieves its aims via direct investments and systemic joint ventures that together forge the fundamental strategy of the semi-official sovereign wealth fund. The FSI is creating close relationships with the Arab world, in particular with Kuwait and other emirates in the Gulf Cooperation Council.
  The most important operation FSI brokered recently is with the Kuwait Investment Authority (KIA). The two companies announced, at the beginning of 2014, an agreement negotiated under the government of former Italian Prime Minister Enrico Letta and then officially approved in July 2014. The accord consisted of founding of a new investment company – FSI Investimenti SpA– with assets and commitments worth 2.2 billion euros , 77 percent owned by FSI and the remaining 23 percent by KIA.
  After the agreement with the CEO of KIA, Bader Al Sa'ad, FSI CEO Maurizio Tamagnini together with Signor Letta expressed their satisfaction that the deal will not just create more investments for Italy's market but also will strengthen existing economic and diplomatic ties between Italy and Kuwait. Those ties in recent years have been fundamental for Italy's exports, helping to tackle the deep economic recession from which the country is fighting to emerge.
  Specifically, FSI investimenti will operate mainly in all the leading Italian sectors such as defence, security, infrastructure and public services, transportation, communication, energy, insurance and hi-tech research except in the sectors excluded by the KIA bylaws (alcohol and gaming).
 KIA's investment is one of the largest ever made by a sovereign wealth fund in a single company, proof of the reputation for reliability that FSI has built in the past two years, which is encouraging companies to view the state-backed investment fund as an ideal vehicle for investing in Italy.
 What does this joint venture entail in terms of commitment and at a financial/commercial level for both partners? With the creation of FSI Investimenti the KIA will become a primary member of the state-backed investment fund, actively participating in Italian industrial development.
  Moreover, although the Kuwaiti company will not be on the Board of Directors of FSI Investimenti, they will supervise future investments making sure their criteria and pre-requisites for companies are respected. Taking part in FSI also signifies that KIA will become an associate and minor backer of a certain number of companies in which FSI has already invested 2.6 billion euros. These are Kedrion, Metroweb, Valvitalia, Sia and the IQ Made in Italy joint venture.
 The companies they will no longer be partnered with are Generali insurance, who will be released by 2015 and Ansaldo Energia, which is merging with the Chinese company Shanghai Electrics. KIA's 500 million euro injection is still filtering through (at time of writing they have currently invested 352 million euros) but this joint venture has already had an outstanding impact on FSI's future and development.
  What has been most evident is KIA's commitment to the Italian market and the reasons behind that. In fact, managers of the sovereign wealth fund, sixth in the world fund ranking, were convinced to invest, not just because of the potential profit coming from the agreement but especially for the purchases plan and opportunities that could arise from the Italian manufacturing infrastructure.
 There are plenty of small and medium size companies with great potential to expand outside the Italian 'mother land', but unfortunately without the necessary initial investment capital. KIA became interested mainly after FSI's investment in Valvitalia, a company with a global reputation in the field of design, production and overall supplies of equipment for petrochemical and electrical stations in the gas, water and petroleum industries.
 Kuwait is of course well known as a major producer and exporter of oil, which counts for almost 90 percent of Kuwaiti exports. Clearly there could be great opportunities for future collaboration between the two companies.
  Fashion and food are sectors in which KIA is highly interested because of the Kuwaiti people's passion for shopping (13 percent of the monthly income in Kuwaiti families is spent shopping).
  For the food sector demand is as much a necessity as an interest as 90 percent of the food in Kuwait is imported.
  An agreement was made on Nov. 14, 2014, between the IQ Made in Italy Investment company and Inalca (leading Italian meat company headed by CEO Cremonini) which will boost Inalca's assets by around 165 million euros for a 28.4 percent stake in the company. In the wake of this deal, KIA and FSI investimenti are also planning to invest in this sector which has already proved profitable for foreign investors.
  In March 2013 FSI also signed a 50-50 joint venture of some 2 billion euros with Qatar Holding, setting up an "IQ Made in Italy" venture. The joint venture operates and invests mainly with Italian companies related to fashion, luxury, design, food, tourism and lifestyle & leisure (Made in Italy) sectors pushing Arab partners to invest in Italy.
 Therefore, despite criticism from some pundits for purportedly being responsible for distorting the Italian private equity market due to alleged political influences, Italy-watchers agree that FSI's new axis with the Arab world and specifically with Kuwait is a positive and encouraging phenomenon.
  KIA is undoubtedly the right partner for FSI since Italy and Kuwait have been collaborating for as long as 50 years both in the commercial sphere and in the diplomatic and cultural ones. Moreover, the Kuwaiti community is keen on absorbing Italian culture as well as being one of the few countries (together with their Arab neighbours) where Italy exports the most in the Mediterranean area.
 The CEO of Fondo Strategico Italiano, Maurizio Tamagnini, jokingly assured in a recent interview, "FSI is not a strange animal."
 Against this background the FSI-Arab new world axis is evidently a highly valuable asset for the future and for the nurturing of Italian medium-sized companies with the potential for boosting the Italian economy during a critical period.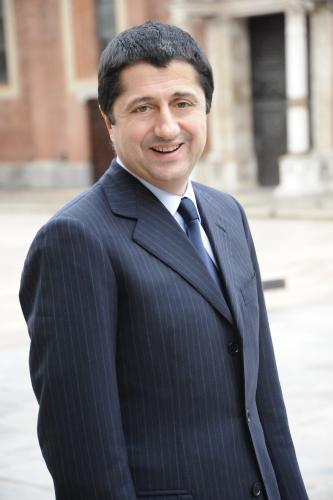 FSI CEO Maurizio Tamagnini. Photo credit: FSI