Latorre to stay in Italy during Indian fishermen murder case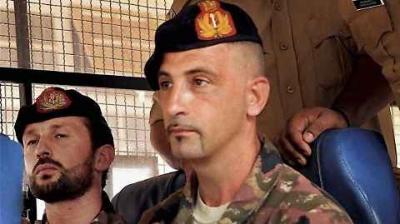 ROME - The Foreign Ministry has revealed that Italian marine Massimiliano Latorre will remain in Italy during the international arbitration of his case and that of a fellow serviceman accused of killing two Indian fishermen during an anti-piracy mission in 2012. 
  The Indian Supreme Court has decided to extend Lahore's permit to stay in Italy for health reasons until April 30, as he had previously returned to Italy for treatment following a stroke in 2014. 
  However, the other marine, Salvatore Girone, remains in India. 
  The two men, members of the elite San Marco battalion, were arrested on Feb. 15 2012 by Indian authorities for the shooting of two fishermen, Ajesh Binki and Gelastine, off the coast of Kerala, southwest India. Murder is a charge that in India is punishable by life imprisonment or the death penalty. 
  The two Italian marines were working at that time as armed guards aboard a private Italian-flagged oil tanker when they allegedly mistook the two fishermen for pirates. According to the Italian version of events, the armed marines aboard the Enrica Lexie fired three warning shots suspecting a pirate attack. However, the owner of the fishing boat claims that the shots woke up the 11 fishermen aboard, killing two of the crew.
  The case has sparked controversy between the two countries because it occurred in the contiguous zone off India's coast. India maintained that it had proper jurisdiction to pursue the case, whilst Italian officials argued that India did not have any jurisdiction to carry out the arrests.  
  is