Italian fashion business starts to grow again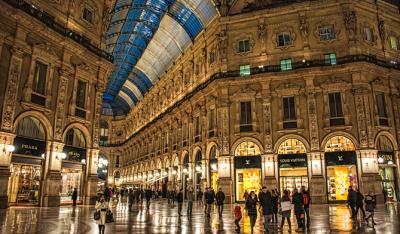 Galeria Vittorio Emanuele II in Milan
  Rome - Higher consumpion in the first half of 2015 and rental growth in the High Street Italian during the last six months foreshadow a further increase in fashion industry, announced the report "High-Street Fashion 2015/2." made by the World Capital, in collaboration with the Italian Fashion Federation and Global Blue.
  "The comsuption in the first half of 2015 increased by 0,17 percent compared to the same period last year and the real estate on High Street Fashion in Milan in the second half of 2015 has grown by up to 8,000 € /sq m," said Neda Aghabegloo, Head of Research Capital of the World.
  According to the Aghabegloo, the increase is influenced by a higher consumer confidence due to luxury, authoritative international brands, the high quality of the "Made in Italy" system and a larger influx of tourists. "Via Montenapoleone in Milan reached 8,000 € / sq m / a, making it the most prestigious High Street in Italy, while Via Condotti in Rome reached 7,000 € / sq m / a. Venice attests to a general increase in fees, in particular Piazza San Marco with a maximum 4,700 € / sq m / a and a minimum of 3,000 € / sq m / a. Calle Vallaresso and Campo San Bartolomeo enter fully into the circle of the Venetian High Street with maximum values of 2,500 € / sq m / ae € 5,000 / sqm / a.
  An overall increase is also visible in Genoa and Bologna. Florence otherwise, together with Turin and Verona, has stayed quite consistent. Interestingly the High Street Neapolitan street Scarlatti to Vomero, transformed into a pedestrian area, has become a functional commercial location (1,500 € / sqm / a). " concludes Aghabegloo.
  "Recent positive indicators show that the crisis seems to be reaching an end. After years of strong suffering even such a faint revival is a very positive sign." said Renato Borghi, President of the Italian Fashion Federation. "However, it is a heritage, as well as economic, cultural and social importance that must be safeguarded by politicians and it is much more important than the attractiveness of shopping streets. Only a close cooperation and a big reduce of taxes of businesses and households is the only possibility for a real re-start of the economy and a real revival of domestic consumption." added Borghi.