FAO meeting of minds on public-private partnerships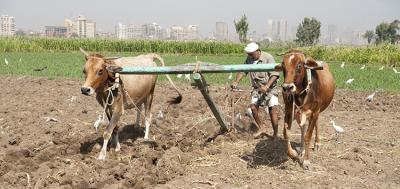 Farming in Egypt, one of many countries that could benefit from public-private partnerships
 ROME - The Food and Agriculture Organisation (FAO) was climaxing a convivial, two day meeting of minds Wednesday on the lofty subject of "Public-Private Partnerships for Agribusiness Development," which critics see as a major vehicle for embattled Director General José Graziano da Silva to bring more of his cronies into the UN agency's lucrative gravy train.
 "In recent years, Public-private partnerships (PPPs) have emerged as one of the favoured mechanisms for agri-food systems development," a confidential FAO memo says.
 "PPPs are broadly promoted as having the potential to help modernize the agriculture sector, while mitigating the high risks of doing business in the sector and addressing the large scale of investments required," says the memorandum seen by Italian Insider.
 With some understatement the memo added that "However, there are many unanswered questions about the types of projects that may be suitably governed by PPPs, and their effectiveness in delivering on sustainable and inclusive agricultural development objectives."
 A veteran FAO watcher noted that "Graziano giving great credibility to both Partnerships and Cooperation. "
 "This is because this is the only way he can get his cronies into FAO's staffing ranks, since they are generalist positions.  He is doing this, by the way, at the expense of the Technical Departments of the Organization."
 The  memo continued that  "this expert meeting will provide a forum for experts with experience in agri-PPPs to discuss and validate the findings of the forthcoming FAO publication titled 'Public Private Partnerships for Agribusiness Development – A synthesis of international experiences', as well as to take stock of the experiences of other participating organizations in designing and implementing agri-PPPs," said the memo.
 "The presenters and discussants include a range of diverse actors involved in researching and implementing agribusiness PPPs coming from development agencies (e.g. IFAD, CGIAR, OECD, OXFAM and World Bank/IFC); private sector; civil society; and academia."
 The gruelling daily programme featured two half hour coffee breaks and a one hour lunch break washed down with "cocktails" from 5:30 pm.