Latvia bids to attract Italians to the Baltic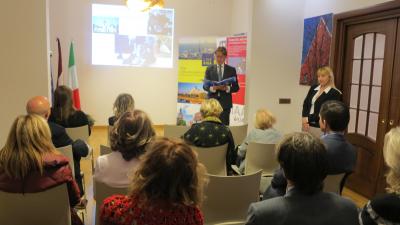 Artis Bērtulis opens the conference
  Rome - Andra Minckevica,  head of Investment and Development Agency of Latvia outlined new business opportunities in her country and chairwoman of the Riga Tourism Development Bureau Vita Jermolovica, provided a constellation of useful information about life in Riga this week at a press conference inaugurating the photographic exhibit "Riga, the city that looks to the future" by Mary Tagliazucchi.
  The conference presents various business, tourism and gastronomy opportunities was held this week in the Embassy of Latvia opened by Artis Bērtulis, Ambassador of Latvia in Italy.
  Thank to the unique localization of Latvia, the country has excellent capacity for business operations with the members of European Union as well as with markets of eastern countries. As a member of UE, Schengen, the World Trade Organization, Latvia is benefitier all of the free and open trade advantages and successfully cooperate with many partners around the World.
  However, the bigger power of Latvia is highly skilled and well educated workforce. History of the country provide its workforce also cultural and language skills. More than 85 percent of citizens speak Russian and 70 percent of Latvians under 40 speak English.
  More than about great business opportunities, Latvians are proud of the capital of the country. Riga is a major center of economic and industrial, transport, scientific but also cultural center of Latvia and on of the greenest capitals in Europe. The historic Old Town inscribed on the UNESCO World Cultural and Natural Heritage. It is one of Europe's largest concentrations of Art Nouveau architecture and in 2014 Riga was named a European Capital of Culture.
  As a city for all, Riga offer plenty of cultural, gastronomic and sightseeing opportunities for both for children and adults guests while young people will especially enjoy the night life of the capital.
  Riga hosts a lot of festivals held throughout all of the year such as Riga Music Festival, Riga Opera Festival, Latvian Song and Dance Festival or Winterfest.
  During the year, the city organize a few restaurant weeks, when all the inhabitants and tourists are invited to visit the best places in Riga to enjoy unforgettable taste and flavour of dishes in attractive price.
  The proof of the exceptional Latvian cuisine was brought also to Rome since at the end of the event there was a tasting of local delicacies prepared by award-winning chef Latvian Māris Astičs.
jp-ms
The speech of Vita Jermolovica
Delicacies prepared by a chef Latvian Māris Astičs