Slush, getting together for a better future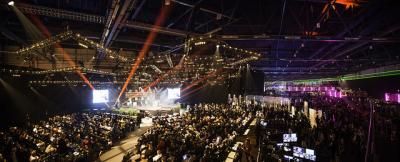 The event in recent years
  HELSINKI - Slush is the focal point for startups and tech talent to meet with top-tier international investors, executives and media and it will  take place in Helsinki on Nov. 11-12, 2015.
  Slush is a non-profit event organised by a community of entrepreneurs, investors, students and music festival organizsrs. Although it has grown from a 300-person event to become one of the leading events of its kind in the world, the philosophy behind it has remained the same: to help the next generation of great, world-conquering companies forward.
  Slush is built for entrepreneurs by entrepreneurs, and it is meant for growth companies of all stages and industries. Whether you are looking for investors, customers, media exposure or mentoring, Slush offers a unique opportunity to get your company within the reach of a global audience.
  In 2014, there were over 1,400 tech startups from 74 countries at the event, meeting with some 750 investors, representing 140 venture capital funds, media and potential corporate partners in over 3,800 pre-booked meetings, bringing together over 14,000 attendees and more than 3500 companies for the two-day event. 
  During the past 4 years, Slush has grown to become the largest venturing event in Europe. The investor-startup interface will continue to be the very heart of Slush, and a dimension that will keep evolving over the coming years. In 2014, a total of 750 investors participated the event, This year, Slush will have a brand new offering to the venture capital investors attending the event: Investor Day, scheduled on November 10th. The attending VCs & Angels will have an opportunity to connect with each other and learn about the developments of the Nordic ecosystem.
  The familiar tools and services from the previous years will be available to venture investors for identifying and tracking the right companies.
Info: