The fight against hunger through music at Expo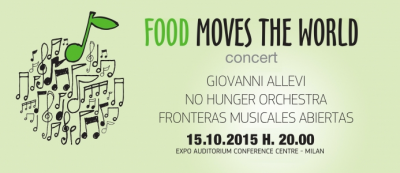 MILAN — The composer and pianist Giovanni Allevi, the No Hunger Orchestra and Fronteras Musicales Abiertas will gather for the concert "Food Moves the World" at the Auditorium of the Convention Centre in the Expo of Milan, on October 15at 8:00 p.m, during the eve of World Food Day 2015 to raise awareness of world hunger.
  The intention of the initiative is to demonstrate that even though hunger is a global challenge, it can be resolved if we face the problem together. "Food Moves the World" is a joint initiative of the European Commission, the Department for Humanitarian Aid and Civil Protection and the Italian Cooperation - Ministry of Foreign Affairs and International Cooperation. Through the sound of the music, the concert aims to raise awareness of the need for action to ensure sufficient, safe, healthy and sustainable food for all humans in the world.
  The No-Hunger Orchestra will open the concert, followed by Fronteras Musicales Abiertas. The Maestro Giovanni Allevi will close the event with a solo performance on piano. 
 Food is one of the biggest wastes in the world. Over 800 million people internationally starve from hunger, and the world wastes at least 1/3 of all food production, according to the award winning author Tristam Stuart. Even in the wealthiest countries millions suffer from the lack of access to food. Growing food demands land, water, fossil fuels, and its production is one the biggest human impacts on nature. 
 "Today 51 million children under five years old suffer from severe and acute malnutrition", said Christos Stylianides, European Commissioner for Humanitarian Aid and Crisis Management. "Music moves the world and has accompanied all the major events that have marked its history. With this concert, we hope to draw attention to the challenge we face and we hope to solidify the actions that the EU is taking to address the problem", he added.
 "In the world there are still 805 million people suffering from hunger. With the adoption of Agenda 2030 to sustainable development, we share a common vision and coordinate actions to achieve food security and promote sustainable agriculture, with special attention to women, who can play an important role in reducing malnutrition," said Paolo Gentiloni, the Italian Minister of Foreign Affairs and International Cooperation.
  Video messages produced by the institutions involved will be screened during the event. This event has been possible thanks to the presence of the United Nations, the Organisation for Food and Agriculture (FAO), Action Against Hunger and the Istituto Italo Latin American.
  Expo 2015 is the current Universal Exposition being hosted by Milan, Italy. It opened on May 1 and will close on October 31. This is the second time Milan has hosted the exposition, the first being the Milan International of 1906.