Vigil in memory of shipwreck off the coast of Lampedusa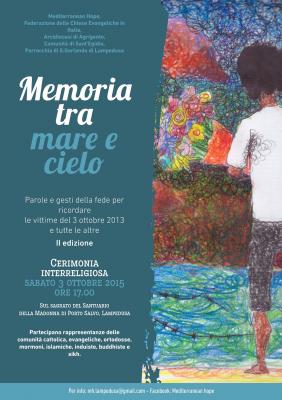 LAMPEDUSA — A ceremony took place on Saturday evening in memory of the victims that were killed during the shipwreck just off the coast of Lampedusa two years ago. The ceremony was an interfaith one, entitled "Remembrance between the sea and the sky."
  On October 3 2013, at approximately 4:00 a.m., a barge carrying hundreds of people, the majority of whom were Eritrean women and children, caught fire and subsequently sank off the coast of Lampedusa. 368 lives were lost in this tragedy, a tragedy that showed the world the plight of many, who have to leave their homes to find better living conditions. 
  "The deaths at sea are a painful thorn in the heart", said Pope Francis during his visit to Lampedusa in July 2013.
  This event is all the more poignant, given the recent journey of refugees, some by foot across the Balkans, and some by sea across the Mediterranean, to seek refuge in Europe. 
  This interfaith vigil was organised by the Community of Sant'Egidio, together with the diocese of Agrigento, the reform Churches, Mediterranean Hope and the parish of Lampedusa. Some survivors of the wreck also took part in the ceremony.