Presentation of the works of Isaac Julien at Villa Aurelia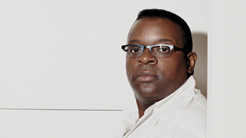 Isaac Julien, whose works are to be put on show at Villa Aurelia
  ROME — A presentation entitled "Isaac Julien - From Ten Thousand Waves to Lina Bo Bardi, via Kapital" will be held on Tuesday at 6:00 p.m. at the Villa Aurelia, Rome (The American Academy in Rome).
   To mark the beginning of his period of residence at the American Academy in Rome, the artist and filmmaker, Isaac Julien, will present his most recent works, including "Ten Thousand Waves (2010) - a reaction to the Morecambe Bay tragedy of 2004, in which 21 illegal Chinese workers drowned, "PLAYTIME: KAPITAL 2014", following its presence at the Venice Biennale this year, and his most recent project, dedicated to the life and works of modernist Brazilian architect, Lina Bo Bardi. 
  The presentation will then be followed by a conversation with the writer and curator Mark Nash.
  Both the presentation and the conversation will be held in English. 
  Isaac Julien is the Miss Mary Artist in Residence at the American Academy in Rome during Autumn 2015. 
  Visitors to the American Academy in Rome are please asked to show a form of identification at the entrance.