Betty Woodman ceramics exhibition in Florence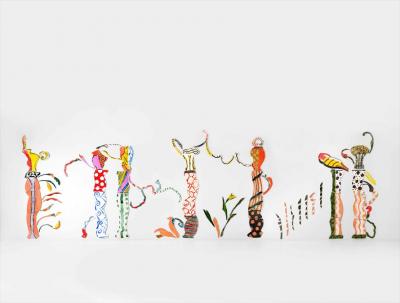 Betty Woodman exhibition at Marino Marini museum, Florence
  FLORENCE—  The Marino Marini museum will be displaying a personal exhibition of Betty Woodman, curated by Vincenzo de Bellis from Saturday until November 28,. 
  During a career of more than 60 years, Woodman has displayed her works in some of the most prestigious museums, from the Metropolitan Museum in New York to Palazzo Pitti.
  Over the years, through a job that both invokes and at the same time challenges the traditional elements of Italian potters, the American artist has reinvented the art of ceramics imaginatively, finding a personal and strongly authoritative connection with the contemporary art scene. It is, therefore, no coincidence, that her most recent project, taking up the last 15 years of her work, the time frame on which the exhibition focuses, has had a significant influence on at least one generation of young artists, who have followed the experimental approach, albeit being observant of tradition. 
  Through the use of bright colours and eccentric shapes, her works have progressively violated the border of decorative arts, and have forcefully entered the realm of visual arts, even often crossing the boundaries of painting. 
  After the Marino Marini Museum, the exhibition will move to the ICA (Institue of Contemporary Arts) in London, between February 2 and April 10 2016, where there will also be a new setup and configuration of the event. 
The exhibition is organised with the support of OAC Ente Cassa di Risparmio di Firenze. 
  Betty Woodman (born in 1930) is internationally recognised as one of the most important contemporary artists. She started her career in 1950 as a ceramist, with the intention of creating objects with their beauty so that they could enrich daily life. She has received many honours, including the 1995 Rockefeller Foundation Fellowship of the Study Centre in Bellgaio Italy.