David Vecchiato's "Oxygen 2015 - Popstairs" is completed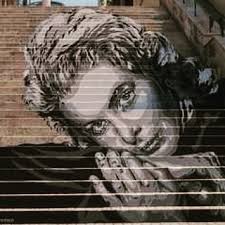 David Vecchiato's artwork
  ROME — The third and final preparation of Street Art by David "Diavù" Vecchiato for the display "Oxygen 2015 - Popstairs" has finished. His art forms part of the programme for Estate Romana 2015 (Roman Summer 2015), as part of an urban cultural reactivation, fulfilled for the first time on three staircases located in the XII, XIV and XV municipalities of Rome. 
  Following Ingrid Bergman at via Fiamignano and Michèle Mercier at Corso Francia, the staircase of Via Ugo Bassi (visible from Viale Trastevere) depicts a young Elena Sofia Ricci, in the shoes of one of the heroines of the Republic of Rome, Cristina Trivulzio di Belgiojoso, in the film by Luigi Magni "In the name of the Sovereign people".
  On September 15 at the SOSE (Exhibition Space of Octavia Station), in via della Stazione di Ottavia 5 from 8:30 pm, one can watch the final presentation of the entire project, with the exhibition of the photos and the projection of the films made over the course of the whole project. 
  After this, there will be a closing concert, with free admission to the show of "The Romans", dedicated to Roman traditional song and the authors who have immortalised it. The group, composed of Raffaella Misiti (voice), Arianna Gaudio (narrator), Annalisa Baldi (guitar) and Désirée Infascelli (accordion and mandolin), will perform the verses of traditional poets - like Belli and Trilussa -  in a musical way - mixing them with the more contemporary Gadda, Pasolini and Streheler.