Festival della letteratura di viaggio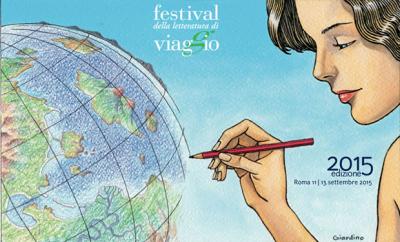 Advert for the upcoming literature festival
  ROME -– A festival celebrating literature based on travel (Festival della letteratura di viaggio) sponsored by the Portuguese airline TAP and other companies was held at Villa Celimontana this month including workshops, exhibits and readings. This will be for the eighth year running, having been established in Rome in 2008. It aims to tell the story of the world, of places and cultures both near and far, through the mediums of literature, geography, photography, music, anthropology, art, journalism and history. This event is particularly important, because "this generation is travelling more and more", according to Gianpiero Perri, Director of the Local Promotion Agency of Basilicata.
  This year's festival was launched at a press conference where journalists had an opportunity to taste different Portuguese wines in a receprion sponsoredby the Portuguese airline TAP. Paolo Zocconali, the TAO marketing manager for Italy and Greece was present at the reception.
   The festival consisted of more than 30 events, including performances, concerts and guided tours. There were also be many opportunities to meet authors and travellers, including the Scottish author William Dalrymple and Swedish author Bjorn Larsson, who are both wordly recognised for their travel literature.
  The event is part of the programme entitled Estate Romana 2015 (Roman Summer 2015) and has backing from many prestigious agencies, such as the Regional Tourism Agency of Lazio and the Local Promotion Agency of Basilicata. It is also in collaboration with many businesses, including Eni and Nikon and National Geographic Italia is one of its media partners.
  The festival is being promoted by the Italian Geographical Society, which was founded in 1867, and aims to promote advancement in geographical knowledge. The festival will take place in their building, Villa Celimontana, but the appendix events, which will take place between September 14 and September 26, will be held in other buildings in Rome.
  For more information visit the website www.festivaletteraturadiviaggio.it
 jp-is