Aeolian sailing respite from Ferragosto chaos
Stromboli in eruption, seen from the Libra. Photo credit: Maurizio Carta
 STROMBOLI– After several visits to the dazzling Aeolian islands, I finally achieved my dream of touring the entire archipelago by sailing boat, climaxing the trip by watching a spectacular eruption of the Stromboli volcano as red-hot lava hissed into the sea.
   I began the adventure by flying from Rome to Catania on a Saturday in August, then taking a bus to Messina and a hydrofoil to Lipari, the Aeolian capital, and boarding the Libra, a 12 metre Jeanneau Sun Odyssey 40 skippered by Maurizio Carta, a seasoned, amiable sea dog with an unflappable air and unquenchable passion for sailing.
 After a stroll around Lipari port with my two other new shipmates, a lawyer and a nurse, for a snack of delicious Sicilian cannoli we set sail and spent the first night moored by an abandoned pumice quarry, which fortunately was the only sight of anything vaguely industrial during the voyage.
     On Sunday we headed off toward Panarea, stopping for lunch for a swim at a group of small islands where several other craft were anchored, then as the wind picked up soaring off toward Stromboli, passing first Ginostra and then mooring off Stromboli's black volcanic beach before a dinner of avocado, tuna and beans. After dinner we jumped in the dinghy and made a sortie into town before hailing Maurizio for a lift back to the Libra.
 After breakfast of granite we headed for Panarea, using masks to pay attention for jellyfish during stops to swim at Basiluzzo and Isola Bianca on the way.
 During several excursions to the Eolians in the past, I had long wanted to see Panarea, the so-called jet set island,  but was disappointed by the swarms of Roman burini (slobs), loud music blaring from bars and granita priced at 4 euros compared to 2,50 on Stromboli. Nevertheless our mooring was in an enchanting cove and the day looked better after a dinner of fried vegetables and speck followed by a cigar.
 In my cabin I was woken once or twice by the boat rolling as taxi launches plied revellers back to their vessels in the early hours before we set off for Salina, another of my favourite islands, anchoring in front of the stunning Pollera beach. After swimming to the shore and back Maurizio hoisted the Jinnaker sail and we scudded toward Filicudi where with difficulty we found an anchorage. Several sleek vessels nearby flew Union Jacks but Maurizio explained this was nearly always a flag of convenience, rarely signalling the presence of real Britons.
  By now the festival of Ferragosto was approaching and after stopping to join an impromptu drinks party on another yacht skippered by a pal of Maurizio's, we opted to avoid the crowds of inebriated Romans flooding the area and sail for the peaceful isle of Alicudi where most of the inhabitants are wild goats and hawks.
 One of Alicudi's two restaurants provided a good dinner of squid and Eolian salad. The island shimmered in the heat and reminded one strongly of the north African coast.
  The next day I took the helm as we returned to Salina where we spotted dolphins, enjoyed the granite at Alfredo's and an outdoor film on the jetty as well as a religious festival on our last night before heading back to Lipari.
 Even at highest season the Libra gave us access to many tranquil seascapes while Maurizio was a constant source of wisdom and anecdotes about the history of this extraordinary area of the Mediterranean.
Heading for the Eolian islands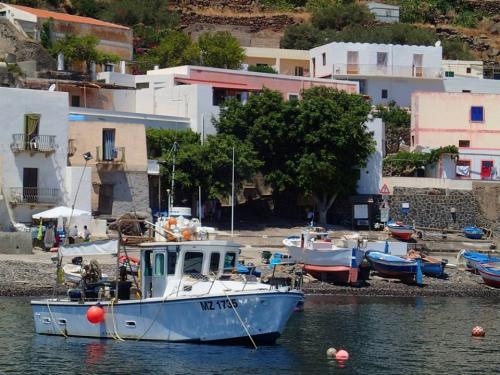 Alicudi, perhaps the most intriguing of the archipelago