Grillo vents frustration as city council approves Rome 2024 bid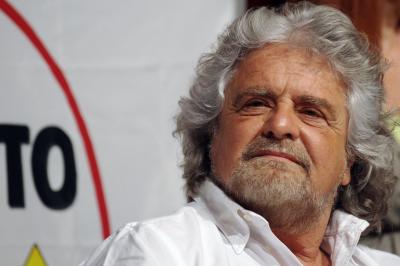 Beppe Grillo has been a strong opponent of the bid since its announcement
 ROME – The city of Rome's bid to host the 2024 Olympic and Paralympic Games has been fiercely scorned by one of Italy's leading politicians ahead of Thursday's city council 38-6 resounding vote in favour of the capital's bid for the games.
  Beppe Grillo, founder of the 5-Star Movement which has 109 members in the Chamber of Deputies, has severely criticised the idea of the Italian capital hosting the Olympic Games in just under a decade, comparing its absurdity to that of Afghanistan launching a hypothetical bid to host the games in 2030.
  Grillo, whose party received the second highest percentage of the popular vote in the 2013 General Election, coined Rome a 'Mafiacapitale' and satirised the campaign by suggesting new Olympic events such as 'shooting rats', 'throwing rubbish' and 'jumping the metro' should fittingly be introduced were Rome to win the bid.
  Although a renowned anti-establishment figure, Beppe Grillo remains popular among the electorate and voices the concerns of a significant proportion of public opinion with regard to the ongoing legal investigation into links between the mafia and politicians in Rome.
  Rome City Council President Valeria Baglio told reporters that 'approving this motion is truly an act of love for the City, allowing us to distance ourselves from recent confrontations and political differences that divide us'.
  There remain fears however, that history may repeat itself and the Italian National Olympic Committee may have to once again eventually have to withdraw the bid due to financial difficulties as was the case in 2012 regarding hosting the 2020 games.
  Despite these concerns, the bid has already been confirmed by Prime Minister Matteo Renzi and strongly approved by the vote in Thursday's council meeting which also determined the direction the campaign will take. It is thought that emphasising Rome's beauty, cultural heritage and sporting prowess will make up the forefront of the project.
  Rome will go up against Paris, Boston, Hamburg and Budapest, subject to Hungarian parliamentary approval, making the five-way bid for 2024 a fascinating prospect for the International Olympic Committee when it makes a decision in 2017.