Expo Milano opens as Renzi vows "We won't give up"
The opening ceremony of Expo 2015. Photo credit: Lorenzo Sorbini
MILAN- Expo 2015 special commissar Giuseppe Sala and Italian Prime Minister Matteo Renzi inaugurated the universal exposition Friday, calling it "a synergy of Italian efforts, bravery and hard work." Renzi vowed to supporters "we won't give up" as police and Black Bloc protesters clashed in the business capital.
 Renzi said "Many people have been criticising us during the working period, but we have always believed in the project, so we did it and we made it."
 He added "politics need to step up and fight back the hunger issue as the poverty and food security."
"We are finally here," said Sala in the Open Air Theatre at the vast site as a crowd including site workers, volunteers and dignitaries looked on
The inauguration, held today the Open Air Theatre, started at 12 and there were many people attending, from Expo's workers to volunteers and public figures.
"Throughout clusters we made it possible that even small countries could have their own space in order to be represented" said Sala.
"Expo 2015 in Milan is not an Italian miracle but the synergy of the Italian forces, bravery and hard work."
Giuliano Pisapia, the Mayor of Milan, underlined how important it is to be aware of the current situation of food insecurity and the on-going hunger issue that makes 800 million people suffer worldwide.
"Expo 2015 in Milan was born and still is intended to speak to everyone, creating a wider ground for awareness on sustainable development, food waste and many other issues" said Pisapia.
Lombardy Regional governor Roberto Maroni outlined the importance for Italy and Lombardia region to show its cultural heritage and especially its food culture.
"Expo will be a platform for debate as well as a source of energy and inspiration" said Ferdinand Nagy- President Bureau International Expo- in his brief speech.
 Many found Pope Francis's speech, beamed live to Milan from Rom, the most moving. "Expo 2015 is the opportunity to create solidarity on food"
 "This Expo 2015 is for all those people, those hidden presence that we cannot see but they are alive and they struggle every day to get enough food. Those people are the real protagonists of Expo 2015" the pontiff said.
 The national Italian anthem then was played and a dazzling choreography of Italian Air Force jet fighters climaxed the ceremony.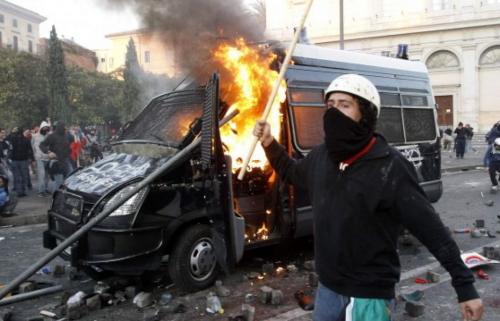 Black Bloc protests in Milan