Pope Francis holds talks with Ban Ki-Moon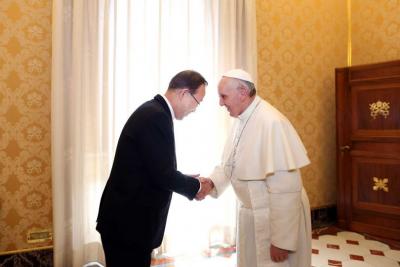 VATICAN CITY – United Nations Secretary-General Ban Ki-Moon had an audience with Pope Francis in the Apostolic Palace on Tuesday, Vatican officials said. Both men have, this week, said that EU member states and the wider world must act to help Italy with the migrant crisis.
 As two of the world's strongest figureheads for peace, the UN Secretary-General and the Pope have both voiced their concerns in recent days over the deepening migration issue affecting the Mediterranean. After a visit on Monday to an Italian naval ship, charged with helping to reduce the number of migrant deaths, Ban underlined the need for co-operation, saying Italy can not act alone.
 "First of all, we have to stop and prevent human trafficking. This is criminal," said the Secretary General. "I know it is a huge challenge for the Italian Government and, in a broader sense, European governments. Not a single country – like Italy – can bear all this responsibility."
 The words echoed earlier comments made by the pontiff who has called on the international community to act over the rapidly rising death toll in the Mediterranean.
 "It's evident that the proportions of the phenomenon require a much wider involvement," said Francis. "We must never tire of appealing for a more extensive commitment on the European and international level."
 Following his visit to Sicily on Monday with Prime Minister Matteo Renzi, Ban Ki-Moon met the Pope on Tuesday, ahead of a conference, organised by the Pontifical Academy of Social Sciences, to be held between May 2 and 6. The organisation is hosting the workshop to highlight the inequality of development and the environmental concerns that it raises and the UN Secretary General will take part in the event.
 "Our idea is not to catalogue environmental problems," said a statement on its website. "We propose instead to view Humanity's interchanges with Nature through a triplet of fundamental, but inter-related Human needs – Food, Health, and Energy – and ask our respective Academies to work together to invite experts to reveal constraints on Nature's ability to meet them."