Italy's largest Da Vinci exhibition opens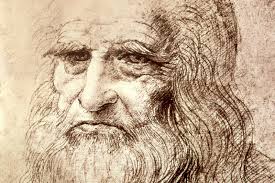 One of Da Vinci's self portraits
MILAN – On display in the city's Palazzo Reale, Leonardo 1452-1519 presents an extraordinary collection of works by Italy's celebrated Renaissance genius.
The exhibition is the largest to be devoted to Da Vinci since 1939 and features a number of the artist's famous pieces, on loan from institutions across the world, including the Louvre, the British Museum, the New York Metropolitan Museum and the Biblioteca Ambrosiana.
Without a doubt, one of the exhibition's highlights is the Vitruvian Man, a drawing rarely shown to the public, which depicts ideal human proportions according to geometric principles outlined by Roman architect Vitruvius. Other notable works on display include St John the Baptist andAnnunciation as well as around 100 signed drawings, a number of which are from the Codex Atlanticus. In addition, the show is contextualised by pieces from Da Vinci's Florentine contemporaries and predecessors, such as Sandro Botticelli and Paolo Uccello. All in all, the exhibition provides a unique insight into the man considered the epitome of Renaissance humanist ideals.
Da Vinci's involvement with the Lombard capital dates back to 1482, when Lorenzo de' Medici sent him to secure peace with Ludovico Sforza, Duke of Milan. He stayed in the city until 1499, during which time he produced a number of works, including The Last Supper, a fresco housed in the Chiesa di Santa Maria delle Grazie (Church of Saint Mary of Grace).  
The exhibition closes on 19 July. For more information, visit: http://www.skiragrandimostre.it/leonardo/?setlang=en